EcoBlue Liveaboard
View trips & availability
Book now – pay after confirmation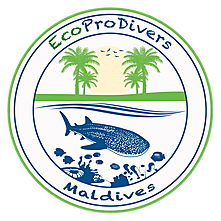 EcoPro Divers
Boat specification
Year built:

2002

Last renovation date:

June, 2017

Length / Width:

32 m / 10 m

Material:

Wood

Capacity:

22

Languages:

English
View full specification
Services available
Nitrox: Surcharge
Wifi: Surcharge
Divers with disabilities: No
Tech diving: No
Double Cabins: Yes
other services
Eco Blue was built in 2002 and totally redesigned in 2017. Main liveaboards concern is marine protection. During the trip, you will be given lots of information about marine conservation types and classes of different fish and will get a chance to discover underwater treasures of Maldives. Dive guides of Eco Blue are highly experienced. They have the background in the fields of recreational diving and nautical skills.
Boat Interior
Eco Blue can accommodate 22 guests. 8 cabin are located on the lower deck. Each has a double bed and an upper twin bed. 4 staterooms with twin beds are on the upper deck of the boat. All rooms have individual bathrooms, air conditioning anв storage systems. Cozy salon of Eco Blue liveaboard combined with a dining area. It's great to spend time in between dives or to stay in the evenings. There is also a big sun deck space on the top deck. You can stay at the shaded part or enjoy warm sun on the opened part.
Dive Deck
Dive deck of the Eco Blue Liveaboard stuffed with two air compressors a nitrox compressor for those divers who earned EANx certification.
Safety
Safety is always important and Eco Blue crew knows it. The boat is equipped with emergency rafts, life vests, fire alarm fire extinguishers, first aid kits, a team is trained first aid.
Itinerary
Eco Blue Liveaboards itinerary include diving on central atolls of Maldives. You will visit Male and Ari atolls with its large pinnacles, channels, reef plateaus, walls, and drop-offs. Divers will experience great drift dives. Lots of gray reef sharks, rays, and other fish can be seen here. You will be also diving at Baa Atoll. It is known for the whale shark encounters. Hanifaru Bay will also visited.
When to Go
High season for diving on Maldives begins in December and ends in May. But diving here is available all year round because of good visibility and water temperature, that are usually around 26 to 29C.
If you are searching for the liveaboard that would combine comfort, experience and also passion for marine protection, then EcoBlue is just for you
Special deals of EcoBlue Liveaboard
Save 45% OFF on September Trips
view deal
Travel with your family and get special discounted prices
view deal
Save more than 20% OFF on new reservation from January 2018
view deal
Save more than 20% OFF on new reservation from October 2017
view deal
EcoBlue trips & availability2017-09-16 20:40:05
More info & book
Baa Atoll and Hanifaru Bay
8 Days / 7 Nights (Approximately 18 dives)
Departure port:

Male

Return port:

Male
Specify the dates of your planned trip to browse through the available options or
view full schedule
More info & book
Family Cruise to Central Attols
8 Days / 7 Nights (Approximately 14 dives)
Departure port:

Male

Return port:

Male
Specify the dates of your planned trip to browse through the available options or
view full schedule
More info & book
South to Thaa (14 Nights Trip)
15 Days / 14 Nights (Approximately 24 dives)
Departure port:

Male

Return port:

Male
Specify the dates of your planned trip to browse through the available options or
view full schedule
More info & book
South to Thaa (10 Nights Trip)
11 Days / 10 Nights (Approximately 22 dives)
Departure port:

Male

Return port:

Male
Specify the dates of your planned trip to browse through the available options or
view full schedule
More info & book
Central Atolls
8 Days / 7 Nights (Approximately 18 dives)
Departure port:

Male

Return port:

Male
Specify the dates of your planned trip to browse through the available options or
view full schedule
EcoBlue cabins
Twin Cabin

Deck:

Upper Deck

Bedding:

Twin beds

Max occupancy:

2

Ensuite bathroom:

Yes

more info

Double Bed Cabins

Deck:

Lower Deck

Bedding:

Double bed + Twin bed (bunk-style)

Max occupancy:

2

Ensuite bathroom:

Yes

more info
You also may be interested in