Carpe Diem Liveaboard
View trips & availability
Book now – pay after confirmation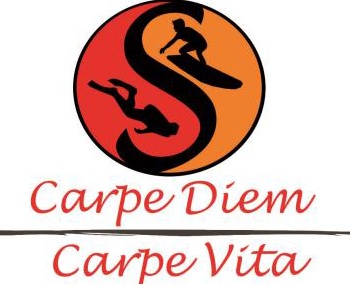 Carpe Diem Maldives
Boat specification
Year built:

2008

Length / Width:

35 m / 10 m

Material:

Wood

Capacity:

20

Languages:

English
View full specification
Services available
Nitrox: Surcharge
Wifi: Surcharge
Divers with disabilities: No
Tech diving: No
Double Cabins: Yes
other services
Carpe Diem was the first boat of Carpe diem Fleet. It was built in 2008 to suit divers needs and requires.
Boat Interior
2 decks of Carpe Diem Liveaboard can welcome 20 divers and their fellow travelers. There are three types of cabins on a board of this boat, so you can be sure that you will get comfort on board. Lower deck can offer accommodation in one of the six standard cabins, a double cabin is placed on the main deck and on the upper deck are suites and deluxe rooms. All they are has air conditioning and private showers. Also, each cabin has its own name, one of its called Salsa, another is Smile. Sun room situated on an upper deck and it is definitely sunny. Rooms are lights and spacious and bring you comfort that you expect from the trip.
Carpe Diem Liveaboard has several areas for you to spend time in between dives. Diving area is open air, so you can appreciate stunning views of Maldives while meals are served. Lounge on the upper deck has entertainment facilities. Also many comfortable sitting places and coaches on other boat's decks. But you are on the boat in the middle of the Maldivian clear blue waters, what can be better than enjoy the gorgeous view on the sun deck.
Dive Deck
Carpe Diem dive deck equipped with Coltri compressors also there is a possibility of nitrox filling on board. To get to the dive sites boat has a tender and a small speedboat. Rent of Scuba Pro dive gear is available on board of Carpe Diem.
Safety
Carpe Diem's team care about your safety. All needed equipment is on board: Smoke detectors, fire extinguishers, life jackets, emergency alarm.
Experienced Dive Crew
Carpe Diem Liveaboard has 2 dive guides, so divers can be separated into small teams by their level of experience. Every crew team member has many years of diving on Maldives. The have dedicated their careers to diving in this beautiful place. Each diver on a board of Carpe Diem will get a personal care.
Dive with Mantas
Maldives is a home for thousands of Manta Rays. During this trip, you will visit dive sites where mantas can be often seen. Divers will take part in researching and observing of this marvelous critters. And also, it is a great opportunity to assist Dr. Anne-Marie Kitchen Wheeler in her explorations.
Itinerary
Carpe Diem itineraries include famous dive site of Maldives. During the safari, you will visit Baa and Lhaviyani atoll, Ari Atoll and observe Manta Rays. Dive spots and lagoons where mantas can be often meet will be visited while you are on a board of Carpe diem. Thеy will be flying around you like giant birds with their giant wings. Baa and Lhaviyani represented by thousands of coral reefs and a variety of fish. Don't miss a chance to dive with whale sharks in crystal waters of Maldives.
When to go
High season for diving on Maldives begins in December and end in May. But diving here is available all year round because of good visibility and water temperature, that are usually around 26 to 29C.
With Carpe Diem Liveaboard diving vacation can be extraordinary. You will get a comfort and many interesting dives with marvelous creatures of Maldives critters like mantas and sharks. Enjoy stunning views of blue waters, dive with one of the most experienced team
Special deals of Carpe Diem Liveaboard
20% OFF on August Trip
view deal
Price of Low Season for the December Trips
view deal
Carpe Diem trips & availability2017-06-20 08:55:14
More info & book
North Male - Rasdhoo - Ari - South Male (7 Nights Trip)
8 Days / 7 Nights (Approximately 17 dives)
Departure port:

Male

Return port:

Male
Specify the dates of your planned trip to browse through the available options or
view full schedule
More info & book
North Male - Ari - Vaavu - South Male (7 Nights Trip)
8 Days / 7 Nights (Approximately 17 dives)
Departure port:

Male

Return port:

Male
Specify the dates of your planned trip to browse through the available options or
view full schedule
More info & book
North Male - Lhaviyani - Noonu - Shaviyani - Raa - Baa - Rasdhoo - Ari - North Male (10 Nights Trip)
11 Days / 10 Nights (Approximately 24 dives)
Departure port:

Male

Return port:

Male
Specify the dates of your planned trip to browse through the available options or
view full schedule
More info & book
North Male - Baa - Raa - Rasdhoo - Ari - Vaavu - South Male (7 Nights Trip)
8 Days / 7 Nights (Approximately 17 dives)
Departure port:

Male

Return port:

Male
Specify the dates of your planned trip to browse through the available options or
view full schedule
More info & book
North Male - Lhaviyani - Baa - Raa - Noonu - North Ari - South Ari (10 Nights Trip)
11 Days / 10 Nights (Approximately 20 dives)
Departure port:

Male

Return port:

Male
Specify the dates of your planned trip to browse through the available options or
view full schedule
More info & book
Baa - North Ari - South Ari - Vaavu - South Male (7 Nights Trip)
8 Days / 7 Nights (Approximately 18 dives)
Departure port:

Dharavandhoo

Return port:

Male
Specify the dates of your planned trip to browse through the available options or
view full schedule
More info & book
North Male - South Ari - Meemu - Vaavu - South Male (7 Nights Trip)
8 Days / 7 Nights (Approximately 17 dives)
Departure port:

Male

Return port:

Male
Specify the dates of your planned trip to browse through the available options or
view full schedule
More info & book
North Male - South Male - Vaavu - Ari - Rasdhoo - Baa - Raa - Baa (7 Nights Trip)
8 Days / 7 Nights (Approximately 8 dives)
Departure port:

Male

Return port:

Dharavandhoo
Specify the dates of your planned trip to browse through the available options or
view full schedule
More info & book
North Male - Ari - (Thaa) - Meemu - Vaavu - South Male (Male - Male) (10 Nights Trip)
11 Days / 10 Nights (Approximately 18 dives)
Departure port:

Male

Return port:

Male
Specify the dates of your planned trip to browse through the available options or
view full schedule
More info & book
Laamu - Huvadhoo - Fuvamulah - Addu (Laamu - Addu) (7 Nights Trip)
8 Days / 7 Nights (Approximately 18 dives)
Departure port:

Laamu Atoll

Return port:

Port of Addu Atoll
Specify the dates of your planned trip to browse through the available options or
view full schedule
More info & book
North Male - South Male - Vaavu - South Ari - North Ari - Baa (Male - Dharavandhoo)
8 Days / 7 Nights (Approximately 18 dives)
Departure port:

Male

Return port:

Dharavandhoo
Specify the dates of your planned trip to browse through the available options or
view full schedule
More info & book
North Male - Baa - Raa - Baa - Rasdhoo - Ari - North Male (7 Nights Trip)
8 Days / 7 Nights (Approximately 18 dives)
Departure port:

Male

Return port:

Male
Specify the dates of your planned trip to browse through the available options or
view full schedule
More info & book
Baa - Raa- Baa - Rasdhoo - Ari - Vaavu - South Male
8 Days / 7 Nights (Approximately 17 dives)
Departure port:

Dharavandhoo

Return port:

Male
Specify the dates of your planned trip to browse through the available options or
view full schedule
More info & book
North Male - South Male - Vaavu - Ari - Rasdhoo - Baa - Raa (7 Nights Trip)
8 Days / 7 Nights (Approximately 17 dives)
Departure port:

Male

Return port:

Port of Baa Atoll
Specify the dates of your planned trip to browse through the available options or
view full schedule
More info & book
North Male - Rashdoo - Ari - Meemu - Vaavu - South Male (10 Nights Trip)
11 Days / 10 Nights (Approximately 23 dives)
Departure port:

Male

Return port:

Male
Specify the dates of your planned trip to browse through the available options or
view full schedule
More info & book
North Male - South Ari - Vaavu - Meemu - Thaa - Laamu (7 Nights Trip)
8 Days / 7 Nights (Approximately 17 dives)
Departure port:

Male

Return port:

Laamu Atoll
Specify the dates of your planned trip to browse through the available options or
view full schedule
Carpe Diem cabins
Suite Cabin (Sun)

Deck:

Upper Deck

Bedding:

Double bed

Max occupancy:

2

Ensuite bathroom:

Yes

more info

Deluxe Cabin (Star)

Deck:

Upper Deck

Bedding:

Double bed

Max occupancy:

2

Ensuite bathroom:

Yes

more info

Double Cabin (Sand, Sea)

Deck:

Main Deck

Bedding:

Double bed

Max occupancy:

2

Ensuite bathroom:

Yes

more info

Standard Cabin (Surf)

Deck:

Lower Deck

Bedding:

Double bed

Max occupancy:

2

Ensuite bathroom:

Yes

more info

Standard Twin Cabin (Snorkel)

Deck:

Lower Deck

Bedding:

Twin beds (bunk-style)

Max occupancy:

2

Ensuite bathroom:

Yes

more info

Standard Cabin (Scuba, Shell, Salsa, Ski, Smile)

Deck:

Lower Deck

Bedding:

Twin beds

Max occupancy:

2

Ensuite bathroom:

Yes

more info
Carpe Diem additional options
All these services you can order when booking
Equipment Rental
Courses and Specialities
Full Equipment Rental (per 10 Days) Equipment rental and Courses Rate PlanEUR

300

Full Equipment Rental (per 7 Days) Equipment rental and Courses Rate PlanEUR

220

Snorkeling Equipment Rental (per 10 Days) Equipment rental and Courses Rate PlanEUR

40

Snorkeling Equipment Rental (per 7 Days) Equipment rental and Courses Rate PlanEUR

30

Full Wetsuit Rental (per Dive) Equipment rental and Courses Rate PlanEUR

5

Full Wetsuit Rental (per 7 Days) Equipment rental and Courses Rate PlanEUR

40

Full Wetsuit Rental (per 10 Days) Equipment rental and Courses Rate PlanEUR

50

BCD Rental (per 10 Days) Equipment rental and Courses Rate PlanEUR

70

BCD Rental (per Dive) Equipment rental and Courses Rate PlanEUR

5

BCD Rental (per 7 Days) Equipment rental and Courses Rate PlanEUR

50

Regulator Rental (per 10 Days) Equipment rental and Courses Rate PlanEUR

70

Regulator Rental (per Dive) Equipment rental and Courses Rate PlanEUR

5
Regulator Rental (per 7 Days) Equipment rental and Courses Rate PlanEUR

50

Computer Rental (per 7 Days) Equipment rental and Courses Rate PlanEUR

65

Computer Rental (per 10 Days) Equipment rental and Courses Rate PlanEUR

70

Computer Rental (per Dive) Equipment rental and Courses Rate PlanEUR

10

Torch Rental (per 7 Days) Equipment rental and Courses Rate PlanEUR

30

Torch Rental (per 10 Days) Equipment rental and Courses Rate PlanEUR

40

Torch Rental (per Dive) Equipment rental and Courses Rate PlanEUR

8

15 Litre Tank Rental (per 10 Days) Equipment rental and Courses Rate PlanEUR

150

15 Litre Tank Rental (per 7 Days) Equipment rental and Courses Rate PlanEUR

100

Nitrox 32% (per 10 Days) Equipment rental and Courses Rate PlanEUR

150

Nitrox 32% (per 7 Days) Equipment rental and Courses Rate PlanEUR

100
You also may be interested in