LIVEABOARD DIVING IN Mexico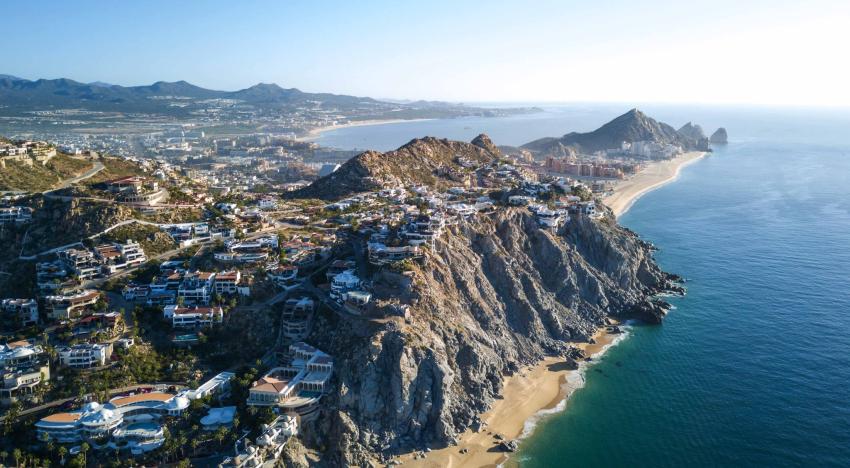 From the crystal-clear waters and diverse marine life of the Sea of Cortez to the remote and pristine Socorro Islands. Swim with sea lions, encounter giant manta rays, and dive among towering seamount
Unique underwater topography
Diverse ecosystem
Unforgettable diving adventure
Mexico is a dream destination for diving enthusiasts. Its crystal-clear waters, abundant marine life, and unique underwater topography make it an ideal location for diving adventures. Liveaboard diving in Mexico boasts a number of world-renowned dive sites, including the Sea of Cortez and the Socorro Islands, which offer some of the best diving experiences in the world.
The Sea of Cortez is a stunningly beautiful body of water located between Baja California and the Mexican mainland. It is home to a rich and diverse ecosystem that includes over 900 species of fish and over 30 species of marine mammals. The Sea of Cortez is also known as the "Aquarium of the World" because of its impressive biodiversity.
Diving in the Socorro Islands is characterized by its large pelagic species. Divers can expect to see schools of hammerhead sharks, giant manta rays, and even humpback whales. The unique underwater topography of the Socorro Islands includes towering seamounts, deep canyons, and underwater arches, providing divers with a truly unforgettable diving experience.
Mexico offers some of the best diving in the world, with the Sea of Cortez and the Socorro Islands being two of the most incredible dive destinations. The unique underwater topography and rich biodiversity of these areas make them ideal for divers of all skill levels. From playful sea lions to majestic humpback whales, the marine life in Mexico is truly awe-inspiring. If you are looking for an unforgettable diving adventure, Mexico should be at the top of your list
Destinations in Mexico
Mexico is a divers' paradise, and two of its main destinations for liveaboard diving are the Socorro Islands and the Sea of Cortez. Liveaboard diving in Socorro offers an unforgettable experience to encounter large pelagic marine life, including giant manta rays, humpback whales, and hammerhead sharks. The Socorro Islands are located in the Pacific Ocean and offer remote and pristine diving conditions, with excellent visibility and varied depths. The islands are also home to unique marine life, such as the endemic clarion angelfish, and are a hotspot for underwater photography. Liveaboard diving in Socorro is perfect for experienced divers who want to explore some of the most exciting diving sites in the world.
Another popular option for divers visiting Mexico is liveaboard diving in the Sea of Cortez. A UNESCO World Heritage site that offers a diverse range of marine life, including sea lions, whale sharks, and colorful reef fish. The waters are warm and clear, with excellent visibility and varied dive sites. Liveaboard diving in the Sea of Cortez is perfect for both experienced and beginner divers, with plenty of shallow dives for beginners and challenging deep dives for the more experienced
When To Go Dive in Mexico
Mexico is a year-round destination for diving, but the best time for a liveaboard diving trip depends on the region you plan to visit. The Sea of Cortez has warm waters and the best visibility from June to November, making it a popular time to dive. During this period, the water temperature ranges from 80-85°F (27-29°C) and currents are generally mild. On the other hand, the Socorro Islands have cooler waters and the best visibility from November to May, making it the ideal time to visit. The water temperature ranges from 70-75°F (21-24°C) during this period, with stronger currents experienced in some areas.
It's important to note that diving conditions can vary depending on the location and weather patterns. Therefore, it's essential to check the diving conditions before embarking on a liveaboard trip. It's also important to ensure that you have the appropriate wetsuit and other diving equipment to ensure your safety and comfort in the water
Departure ports in Mexico
How to get there
Mexico liveaboard trips departing from several ports, including La Paz, San Jose Del Cabo, Cabo Pulmo, Cabo San Lucas, and Puerto Peñasco. If you choose La Paz as your departure port, you'll arrive at Manuel Márquez de León International Airport (LAP). From there, you can reach the marinas by taxi or shuttle bus. La Paz diving offers sea lion colonies, whale sharks, and colorful reefs, making it a fantastic destination for diving enthusiasts.
San Jose Del Cabo is another popular departure port, and the main airport is Los Cabos International Airport (SJD). Travelers can reach the marinas from the airport by taxi or shuttle bus. San Jose Del Cabo diving offers coral reefs, whale sharks, and sea turtles, making it a great place to explore.
Cabo Pulmo is a remote and pristine destination for liveaboard diving, and the main airport is Los Cabos International Airport (SJD). Travelers can reach the marinas from the airport by taxi or shuttle bus. Cabo Pulmo diving offers the chance to see large schools of fish, sea lions, and humpback whales.
Cabo San Lucas is a popular destination for liveaboard diving, and the main airport is Los Cabos International Airport (SJD). Travelers can reach the marinas from the airport by taxi or shuttle bus. Cabo San Lucas diving offers underwater canyons, shipwrecks, and whale sharks.
Finally, Puerto Peñasco is a remote and pristine destination for liveaboard diving, and the main airport is Puerto Peñasco International Airport (PPE). Travelers can reach the marinas from the airport by taxi or shuttle bus. Puerto Peñasco diving offers vibrant coral reefs, schools of fish, and sea turtles
Show more departure ports
Must see dive sites in Mexico
Mexico is home to some of the world's most exciting and diverse dive sites, and we want to highlight a few must-see destinations that you don't want to miss.
Socorro Island is a volcanic island in the Pacific Ocean, famous for its incredible underwater topography and large pelagic animals. Divers can explore steep walls, ridges, and seamounts while encountering giant manta rays, whale sharks, humpback whales, and even hammerhead sharks.
Roca Partida is a small, rocky island in the middle of the Pacific Ocean, known for its crystal-clear water and abundant marine life. Divers can explore underwater pinnacles and rock formations, encountering schools of tuna, jacks, and snappers, as well as the occasional hammerhead or tiger shark.
San Benedicto is another volcanic island in the Pacific Ocean, located near Socorro Island. Divers can explore steep walls, canyons, and underwater caves while encountering giant mantas, hammerhead sharks, and even dolphins.
La Reina is a sea mount located off the coast of Baja California, famous for its abundant marine life and diverse underwater topography. Divers can explore steep walls, ridges, and underwater canyons while encountering schools of fish, sea lions, and even whale sharks.
Las Animas is a small, uninhabited island off the coast of Baja California, known for its colorful reefs and abundant marine life. Divers can explore shallow coral gardens, encountering schools of tropical fish, octopuses, and even sea turtles.
Punta Martir is a remote dive site located in the Sea of Cortez, known for its crystal-clear water and abundant marine life. Divers can explore steep walls and underwater pinnacles, encountering schools of snappers, jacks, and even the occasional hammerhead or whale shark
Frequently Asked Questions
What is the water temperature like in Mexico, and what type of wetsuit should I bring?
The water temperature in Mexico can vary depending on the region and time of year. In general, the water temperature ranges from around 21-29°C (70-85°F) throughout the year.
In the Sea of Cortez, the water temperature tends to be warmer and ranges from around 24-29°C (75-85°F) from May to November, while in the winter months, it can drop to around 65-70°F (18-21°C). On the other hand, the water around the Socorro Islands tends to be cooler, ranging from around 21-26°C (70-78°F) in the winter months from November to April, and around 26-28°C (78-82°F) from May to October.
It's important to bring the appropriate wetsuit to ensure you stay warm and comfortable while diving. A full wetsuit is recommended for most diving in Mexico. In the cooler months, a 5mm or 7mm wetsuit with a hood may be necessary, while in the warmer months, a 3mm or 5mm wetsuit may be sufficient. It's also important to consider any additional layers, such as a rash guard or dive skin, to protect against the sun and provide extra warmth. Be sure to check with your dive operator for their specific recommendations based on the time of year and diving conditions
What type of diving experience is required for a liveaboard diving trip in Mexico?
The diving experience required for a liveaboard diving trip in Mexico can vary depending on the specific dive sites and conditions. Some sites, such as the Socorro Islands, can have strong currents and deeper depths, which may require more advanced diving skills and experience.
In general, it is recommended that divers have a minimum of Open Water certification and have experience with drift diving, as this is common in many areas of Mexico. It's also recommended to have experience with diving in deeper waters and managing your buoyancy.
It's important to be honest about your experience level and comfort in the water when booking a liveaboard diving trip, as some trips may have more challenging diving conditions than others. Additionally, some liveaboard operators may require a certain level of certification or a minimum number of logged dives to participate in their trips. Always check with the operator for their specific requirements and recommendations before booking a trip
What are the transportation options for getting to the liveaboard departure port, and how do I get there?
In terms of getting to the marina from the airport or your hotel, many liveaboard operators will provide transportation or can arrange it for you. Alternatively, you can take a taxi or rent a car if you prefer. It's a good idea to confirm transportation options in advance and plan accordingly to ensure you arrive at the marina on time for departure
Reviews about Liveaboards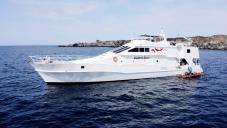 Southern Sport
Great diving spots. Great crew and divemasters. Worst operation ever
Revillagigedo is quite a place. I have been on Cocos and Galápagos before and I was thinking maybe " this is more of the same '', but It is not the case. Dolphins and oceanic manta rays
...
Read more
come quite closer and for a really long time, and we feel a bit different behaviour in the sharks than in the other places. Now talking about the Cruise. Operation was simply awful. Our rental equipment was not ready when we got there and we had to pay a visit to a shop in Cabo San Lucas in order to get our equipment ready. Nitrox is 30 not 32 and compressor just stopped working last day. Crew divemasters and Cook are really really good, knowledgeable and trustworthy people and they do their BEST to compensate the mess it was the operation. Now talking about the cabins, AC cannot be disconnected and basically you have to block it. So come with them for the crew and the divemasters (Tico is the BEST). But be aware the boat is tricky and operation must be improved. It is a shame you are renting from them and your equipment is not ready when you get to the boat. First time it happens to me on a liveaboard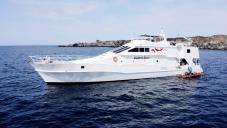 Southern Sport
One of the best trip!
It was one of the best liveaboards. Every crews are so caring and food was amazing. Guides always care about the safety and have sufficient briefing every night for the dive spot of next day
...
Read more
. I got severe sea sickness during the trip and I've been taken care of by every crew. Highly recommend this liveabord for everyone