Fun Azul Maldives Liveaboard
Fun Azul Maldives Liveaboard
View trips & availability
Book now – pay after confirmation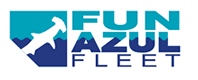 Fun Azul Fleet
Boat specification
Year built:

2009

Length / Width:

35.6 m / 10.2 m

Material:

Steel

Capacity:

20

Languages:

English, Japanese
View full specification
Services available
Nitrox: Surcharge
Wifi: Free
Divers with disabilities: No
Tech diving: No
Double Cabins: Yes
other services
Fun Azul Maldives is a luxury modern yacht that offers diving safari on Maldives since 2013.
Boat interior
10 cabins of Fun Azul Maldives can accommodate 20 passengers. Most of the rooms are located on the lower deck. There are 1 cabins with double bed and 5 with twin rooms can be shared. There is also a deluxe cabin with double and king sized beds. Other 3 rooms are located on the upper deck. Here divers can be accommodated in master twin or in the suite. Lower deck rooms have individual showers, fan, storage for personal belongings and TV monitors. Upper deck cabins have an air conditioning and big wardrobes in addition.
Fun Azul Maldives has plenty of facilities for relaxation. Passengers can stay at the boats lounge area that is combined with a dining room, try some delicious food of Asian, European, and Maldivian cuisine. There are two bars on board of Fun Azul, one on the main deck and the other is on the upper deck near to the cabins. Sun deck has a few sunbeds and a jacuzzi for more relaxation.
Dive deck
Fun Azul Maldives have a big spacious dive deck with an availability of Nitrox charge. Divers with photography equipment can use charging points and a PC for shared use. To get to the dive sites Fun Azul crew use big and comfortable diving boat.
Safety
Fun Azul Maldives has all necessary safety equipment on board: fire extinguishers, life jackets, first aid kit.
Itineraries
Itineraries of Fun Azul Maldives include all the most famous diving destinations of Maldives. Visit central atolls, Male, Baa and Ari Atoll during the trip. Ari Atolls are known for the great chance of meeting whale sharks. South and North Male is a true coral paradise. There are, also manta cleaning stations near this atolls. Diving here features with lots of pelagics, snappers, and groupers. Divers will find a variety of coral species during the trip around Baa atoll. Sponges and coral bushes, hard coral in the shape of mushrooms and tables can be seen here. These coral formations are home for numerous of fish, such as snappers, fusiliers, wrasses. But the main feature that attracts divers to Baa atoll is a chance to dive with both whale sharks and mantas at the same time.
When to go
May to November is the best time to dive on
Diving on Maldives is an unforgettable experience that you will never forget. Fun Azul Maldives gives you an opportunity to spend vacations on this breathtaking destination in comfort of luxury liveaboard
Trips & availability Fun Azul Maldives2016-12-02 12:43:28
More info & book
Felidhe Atoll Trip (7 Nights Trip)
8 Days / 7 Nights (Approximately 18 dives)
Departure port:

Male

Return port:

Male
Specify the dates of your planned trip to browse through the available options or
view full schedule
More info & book
Ari Atoll Trip (4 Nights Trip)
5 Days / 4 Nights (Approximately 8 dives)
Departure port:

Male

Return port:

Male
Specify the dates of your planned trip to browse through the available options or
view full schedule
More info & book
Short Trip (4 Nights Trip)
5 Days / 4 Nights (Approximately 10 dives)
Departure port:

Male

Return port:

Male
Specify the dates of your planned trip to browse through the available options or
view full schedule
More info & book
Ari-Atoll Trip (7 Nights Trip)
8 Days / 7 Nights (Approximately 20 dives)
Departure port:

Male

Return port:

Male
Specify the dates of your planned trip to browse through the available options or
view full schedule
More info & book
Baa-Atoll Trip (7 Nights Trip)
8 Days / 7 Nights (Approximately 18 dives)
Departure port:

Male

Return port:

Male
Specify the dates of your planned trip to browse through the available options or
view full schedule
Cabins Fun Azul Maldives
Suite Cabin

Deck:

Upper Deck

Bedding:

Double bed

Max occupancy:

2

Ensuite bathroom:

Yes

more info

Master Twin

Deck:

Upper Deck

Bedding:

Twin beds

Max occupancy:

2

Ensuite bathroom:

Yes

more info

Deluxe Double

Deck:

Lower Deck

Size:

20 m2

Bedding:

Double bed

Max occupancy:

2

more info

Deluxe Twin

Deck:

Lower Deck

Bedding:

Twin beds

Max occupancy:

2

Ensuite bathroom:

Yes

more info

Deluxe Single

Deck:

Lower Deck

Bedding:

Single bed

Max occupancy:

1

Ensuite bathroom:

Yes

more info
Additional options Fun Azul Maldives
All these services you can order when booking
Equipment Rental
Courses and Specialities
Mask + Snorkel + Fins Rental Rate Plan Equipment & CoursesUSD

5

Wetsuit Rental Rate Plan Equipment & CoursesUSD

10

BCD Rental Rate Plan Equipment & CoursesUSD

10

Regulator Rental Rate Plan Equipment & CoursesUSD

10
Computer Rental Rate Plan Equipment & CoursesUSD

10

Torch Rental Rate Plan Equipment & CoursesUSD

10

15 Litre Tank Rental Rate Plan Equipment & CoursesUSD

20

Nitrox 32% (per Day) Rate Plan Equipment & CoursesUSD

25
Reviews about Fun Azul Maldives
You also may be interested in