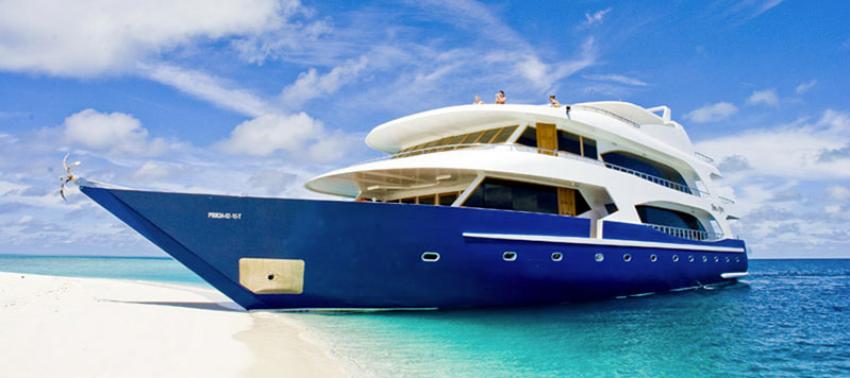 Overview

Schedule & Pricing

Cabins

Amenities

Reviews
Equipment Rental

Surcharge
Duke of York on the Luxury Yacht Maldives Fleets team boat. she is dedicated to relaxing. On board of Duke of York, you can have not only a great diving safari but also can combine it with SPA treatment. It is one of the main boats feature, special SPA programs that were inspired by stunning Maldivian nature.
Boat Interior
There are no bunk beds on a board of MY Duke of York, every cabin is spacious and comfortable. Each one has air conditioning and equipped with showers. It is possible to book a double cabin or book one space in a shared cabin. Duke of Your also can offer you accommodation in the most comfortable cabin on board. The suite is placed on an upper cabin and it has a big window, so you can enjoy the view.
The best that Maldives can have is its nature. On MY Duke of York, you can enjoy it even in the dining area. It is open air and has a perfect shade, so you can be comfortable even if it's raining. Plus there are perfect outdoor areas with numerous of sun loungers on three boat decks.
Evening time passengers of Duke of York Liveaboard can pass on the indoor salon. Here they can watch TV, listen to the music. Bar with a wide choice of soft drinks is also situated here.
Dive Deck
MY Duke of York dive deck supplied with 3 Coltri compressors. There is a Nitrox membrane on board, also, boat is rebreather friendly. Boat has a diving dhoni to bring divers to dive sites. Gear rental is available on board of Duke of York Liveaboard. You can rent all necessary gear for diving with a prior notice.
Safety
MY Duke of York safety is ensured. Boat has life vests, Emergency kit, First Aid Kit and Fire Extinguishers.
SPA Treatments
On board of MY Duke of York divers and their fellow travelers has a great opportunity to try not only great diving but also ayurvedic treatments. Boat has a small SPA, so you can get comfort on board in all dimensions. Yacht gives you an opportunity to relax after diving, get a SPA treatment and also enjoy stunning views of blue waters of Maldives.
Far South Atolls
One of the main benefits of safari on MY Duke of York is an opportunity to visit the most southern Atolls of Maldives. This diving destination is less explored and visited by divers. It takes more time to get far south atolls but it's definitely worth it. There is a great opportunity to meet different types of sharks there. Maldives are famous for the diversity of sharks that can be seen there. And a chance of meeting these extraordinary creatures on the extreme south is higher than anywhere else. This area has a rich aquatic life. It's full of colorful coral reefs, pelagic animals, rare fish, and species.
Itinerary
MY Duke of York itineraries includes central atolls of Maldives and far south. During the safari, divers will be visiting such breathtaking dive sites like Thaa and Laamu. Most recognized is Fushi Kandu. This spot is known between divers for its great amount of critters. Reef sharks, eagles, & stingrays can be often seen there. This dive site has strong currents and deep depths.
Of course, the most known itineraries of Duke of York Liveaboard is far south. Undiscovered dive destinations attract divers from all over the world. It's home to many different types of sharks and other pelagic animals.
When to go
Weather on Maldives is always perfect for diving, but sometimes strong currents can make diving on some dive sites difficult. The best time to visit it's diving destinations from December till the end of May.
Visit extreme south of Maldives with Duke of York Liveaboard. It can be really an extraordinary diving adventure. Also, you can get a reaction that you could only dream about. Vacation on Maldives with its fascinating sceneries, blue waters, colorful reefs combined with SPA, what can be better
Read more
Booking process
Booking
Select the cabin of your choice and enter your personal information. Submit the booking request. Once the booking is processed, you will receive an email notification with all booking details conveniently laid out in PDF.
Confirmation
Our team will contact the liveaboard on your behalf to confirm availability and other booking details. We put your place(s) on hold and get back to you within 24 hours. If there are any issues, we come back to you with alternative options.
Payment
Once your booking is confirmed, you will receive an email notification with payment instructions. You then have up to 72 hours to take care of other travel arrangements and process the transaction to secure your reservation.
Payment Terms & Cancellation Policy
Expand
Payment Terms & Cancellation Policy
Book with Divebooker and get extra benefits
No Booking Fees
Loyalty Club Benefits
FREE DAN Dive Insurance
Book Now Pay Later
Best Price Guarantee
Special Offers & Deals
24/7 Expert Support
Cabins
View deck plan
Twin Berth Cabin
Deck

Lower Deck

Bedding

Twin Beds

Max occupancy

2 Guests

Ensuite Bathroom

Ensuite Bathroom

Aircon

Aircon

Number of Cabins

4 Cabins
4 Twin Berth Cabins are located on the lower deck with 2 separate beds convertible in double bed, air conditioning and bathroom (with shower cabin). All beds are low and there are no bunk beds
Read more
Twin Berth Cabin
Deck

Main Deck

Bedding

Twin Beds

Max occupancy

2 Guests

Ensuite Bathroom

Ensuite Bathroom

Aircon

Aircon

Number of Cabins

1 Cabin
1 Twin Berth Cabin is located on the main deck with air conditioning and bathroom (with shower cabin). All beds are low and there are no bunk beds
Read more
Twin Berth Cabin
Deck

Upper Deck

Bedding

Twin Beds

Max occupancy

2 Guests

Ensuite Bathroom

Ensuite Bathroom

Aircon

Aircon

Number of Cabins

3 Cabins
3 Twin Berth Cabins are located on the upper deck with air conditioning and bathroom (with shower cabin). All beds are low and there are no bunk beds
Read more
Superior Triple
Deck

Lower Deck

Bedding

Double Bed + Twin Bed

Max occupancy

3 Guests

Ensuite Bathroom

Ensuite Bathroom

Aircon

Aircon

Number of Cabins

2 Cabins
2 Superior cabins are located on the lower deck with 1 double and 1 single beds
Read more
Reviews about Duke Of York
You also may be interested in