Emperor Orion Liveaboard
View trips & availability
Book now – pay after confirmation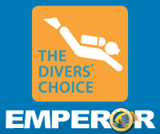 Emperor Fleet
Boat specification
Year built:

2009

Last dry dock date:

June, 2015

Length / Width:

41 m / 9 m

Material:

Wood

Capacity:

24

Languages:

Dutch, English, French, German, Spanish
View full specification
Services available
Nitrox: Free
Wifi: Surcharge
Divers with disabilities: No
Tech diving: No
Double Cabins: Yes
other services
Emperor Orion originally was a part of Cantellation Fleet, now this boat joined big family of Emperor Divers Liveaboards. She was designed to suit divers needs, although she also, suits for non-divers staying.
Boat Interior
Emperor Orion has 12 luxury cabins, where 24 vacationers can be comfortably accommodated. Staterooms placed on lower and upper deck. You can choose a double bed cabin, share twin bedroom with another diver or book suite. The last type of accommodation has more space than other rooms, TV, DVD player and safe for personal belongings.

Boat's salon area situated on the main deck. It is spacious for all divers to feel comfortable between and after dives. Dining zone has placed here also. Passengers of Emperor Orion can watch TV, use Wi-Fi. Also, divers and their fellow travelers can relax in the jacuzzi on the upper deck or take sun baths on the sun deck of the Orion. It has a shaded area and a numerous of sun loungers. It is a perfect place to enjoy a marvelous view of Maldivians blue waters.
Dive Deck
Emperor Orion's dive deck is large, it has a lot of storage boxes for the gear. It is comfortable for preparing for the dive and maintain equipment. Here divers can use charging points for cameras. Certified divers will be glad to know that Emperor Orion can offer free nitrox charge for them. Boat is also rebreather friendly. Non-divers are welcome to, they can use snorkeling equipment.
Safety
Emperor Orion has all necessary to ensure you will be safe during the safari. Boat equipped with live vests, Fire Alarm Fire Extinguishers, first aid kit, etc.
Itinerary
Emperor Orion offers to visit some of the most breathtaking destinations of Maldives Boats itineraries include Rasdhoo, North and South Ari Atoll, Vaavu, Deep South atolls. Safari can last for 7 or 10 days. There is a special trip for those who like to dive with big mantas. These animals are often can be seen between July and November. Deep South itineraries are totally dedicated to diving with sharks. The Indian Ocean is a home for tiger sharks, silver tips, gray reef sharks and whale sharks.
When to Go
November to May is the best time to see Maldives. This time considered as the best for diving here, although diving here is possible all year round.
Diving safari on Emperor Orion gives you an opportunity to relax in atmosphere of a luxury liveaboard combined with experience and extraordinary diving
Trips & availability Emperor Orion2017-03-29 05:55:24
More info & book
Best of Maldives, 7N (Male-Male)
8 Days / 7 Nights (Approximately 17 dives)
Departure port:

Male

Return port:

Male
Specify the dates of your planned trip to browse through the available options or
view full schedule
More info & book
Best of Maldives, 9N (Male-Male)
10 Days / 9 Nights (Approximately 17 dives)
Departure port:

Male

Return port:

Male
Specify the dates of your planned trip to browse through the available options or
view full schedule
More info & book
South Central 7 Atolls (Male - Kadhdhoo) 10 Nights Trip
11 Days / 10 Nights (Approximately 20 dives)
Departure port:

Male

Return port:

Kadhdhoo
Specify the dates of your planned trip to browse through the available options or
view full schedule
More info & book
Deep South & Southern Sharks 9N (Kadhdhoo-Male)
10 Days / 9 Nights (Approximately 20 dives)
Departure port:

Kadhdhoo

Return port:

Male
Specify the dates of your planned trip to browse through the available options or
view full schedule
More info & book
Deep South/ Southern Sharks 10 N (Male - Kadhdhoo)
11 Days / 10 Nights (Approximately 24 dives)
Departure port:

Male

Return port:

Kadhdhoo
Specify the dates of your planned trip to browse through the available options or
view full schedule
More info & book
South Central Atolls, 7N (Kadhdhoo - Male)
8 Days / 7 Nights (Approximately 17 dives)
Departure port:

Kadhdhoo

Return port:

Male
Specify the dates of your planned trip to browse through the available options or
view full schedule
More info & book
South Central Atolls, 7N (Male - Kadhdhoo)
8 Days / 7 Nights (Approximately 17 dives)
Departure port:

Male

Return port:

Laamu Atoll
Specify the dates of your planned trip to browse through the available options or
view full schedule
Cabins Emperor Orion
Executive Suite

Deck:

Upper Deck

Bedding:

Double bed

Max occupancy:

2

Ensuite bathroom:

Yes

more info

Twin\Double Mini Suite

Deck:

Upper Deck

Bedding:

Twin beds

Max occupancy:

2

Ensuite bathroom:

Yes

more info

Junior Suite

Deck:

Lower Deck

Bedding:

Double bed + Twin bed

Max occupancy:

2

Ensuite bathroom:

Yes

more info

Standard Double Cabin

Deck:

Lower Deck

Bedding:

Double bed

Max occupancy:

2

Ensuite bathroom:

Yes

more info

Standard Twin / Double Cabin

Deck:

Lower Deck

Bedding:

Double bed

Max occupancy:

2

Ensuite bathroom:

Yes

more info
Additional options Emperor Orion
All these services you can order when booking
Equipment Rental
Courses and Specialities
Full Equipment Rental incl. Computer (per Trip) Equipment rental and Courses Rate PlanEUR

276

Full Equipment Rental (per Trip) Equipment rental and Courses Rate PlanEUR

248

Mask Rental (per Trip) Equipment rental and Courses Rate PlanEUR

28

Fins Rental (per Trip) Equipment rental and Courses Rate PlanEUR

28

Wetsuit Rental (per Trip) Equipment rental and Courses Rate PlanEUR

55
BCD Rental (per Trip) Equipment rental and Courses Rate PlanEUR

83

Regulator Rental (per Trip) Equipment rental and Courses Rate PlanEUR

110

Computer Rental (per Trip) Equipment rental and Courses Rate PlanEUR

83

Torch Rental (per Trip) Equipment rental and Courses Rate PlanEUR

83

15 Litre Tank Rental (per Trip) Equipment rental and Courses Rate PlanEUR

83
Reviews about Emperor Orion
You also may be interested in