Humboldt Explorer Liveaboard
Humboldt Explorer Liveaboard
View trips & availability
Book now – pay after confirmation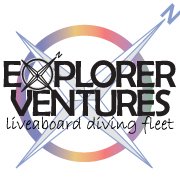 Explorer Ventures Liveaboard Diving Fleet
Boat specification
Year built:

2009

Length / Width:

34 m / 6.5 m

Material:

Aluminium

Capacity:

16

Languages:

English
View full specification
Services available
Nitrox: Surcharge
Wifi: No
Divers with disabilities: No
Tech diving: No
Double Cabins: Yes
other services
Humboldt Explorer Liveaboard is another member of Galapagos Diving Cruises Fleet. This boat can give you an amazing opportunity to enjoy diving in the Pacific Ocean and Galapagos Islands.
Boat Interior
Humboldt Explorer has 8 cabins to accommodate 16 divers and their fellow travelers on board. Boats cabins equipped with tv screens and all have private showers. For additions, they supplied with wardrobes. Beds in some rooms can be transformed from twin into double depending on passengers requires. Staterooms of Humboldt Explorer have big portholes to enjoy a gorgeous view of Pacific. Salon area of Humboldt Explorer perfectly fits to spend time between dives. It has entertainment facilities, like TV and DVD. Dining combined with a salon. Boat also can offer to stay at covered sun deck. This is a superb place to watch sunsets.
Dive Deck
Dive deck of Humboldt Explorer is big enough to prepare for the dive. It has storage facilities, plus it outfitted with camera table nad few charging points for photo equipment.
Safety
Humboldt Explorer has all needed equipment to ensure your safety on board. Boat have first aid kit, oxygen on board, life vests and emergency rafts.
Boat for Photographers
Humboldt Explorer like other fleets boats offers special facilities for marine photographers. On board, they will find a large camera table, perfect to prepare equipment for the next dive and also charging point for cameras. There is a separate tank with fresh water to rinse cameras after diving. Humboldt Explorer routes include diving on many interesting dive spots for photographers. Images made here can be colorful and vivid and you can capture many extraordinary creatures like whale sharks, hammerhead sharks, turtles.
Itinerary
Humboldt Explorer itineraries lies on extraordinary Galapagos Archipelago. This area is a true paradise for divers. It is represented by a diversity of marine creatures like sea lions, mantas, and turtles, It is one of the best places to dive with sharks. Divers can meet Galapagos sharks, hammerheads, whale sharks. One of the points that included in diving trip on Humboldt Explorer is Punta Carrion. White tip sharks and mobula rays frequently seen there. One of the most famous dive spot, visited by Humboldt explorer is Darwin's arch. Diving here is a great chance to see vast schools of hammerheads and manta rays.
When to Go
There are two main seasons for diving on Galapagos Islands. From January to June last wet season, water temperatures in this time of the year usually higher, approximately 27 or 28°C. In July begins the dry season that lasts until December. Usually, water temperatures in this period are 19-23°C. To dive with sharks is better to choose months from June to November.



Humbolt Explorer is a perfect liveaboard for those who wants to make vacations extraordinary. Together with this boat you can discover breathtaking underwater world of Pacific ocean and Galapagos's
Special deals of Humboldt Explorer Liveaboard
Save $1100 on trips in 2018 year.
view deal
Humboldt Explorer trips & availability2017-07-20 09:40:25
More info & book
Galapagos Islands (7 Nights Trip)
8 Days / 7 Nights (Approximately 18 dives)
Departure port:

Port of San Cristobal

Return port:

Port of San Cristobal
Specify the dates of your planned trip to browse through the available options or
view full schedule
Humboldt Explorer cabins
Cabins 1 & 2

Deck:

Main Deck

Bedding:

Twin beds

Max occupancy:

2

Ensuite bathroom:

Yes

more info

Cabins 3-8

Deck:

Lower Deck

Bedding:

Twin beds

Max occupancy:

2

Ensuite bathroom:

Yes

more info
Humboldt Explorer reviews
You also may be interested in
Other liveaboards in Ecuador
Best destinations for liveaboard trips