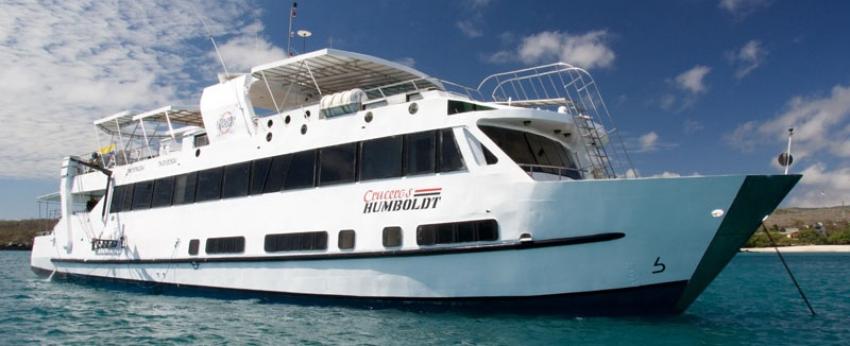 Humboldt Explorer Liveaboard
Overview

Schedule & Pricing

Cabins

Amenities

Reviews
Equipment Rental

Surcharge
Year built

2009

Length

34

Width

6.5

Capacity

16

Material

Steel
Humboldt Explorer Liveaboard - a steel yacht, built in 2009. The yacht features luxury amenities like a jacuzzi and a big covered sun deck. Underwater photographers will be glad to know that Humboldt Explorer has a large camera table with charging station and separate tanks for the photo equipment, so they can maintain all the gear after diving.
Boat Interior
Humboldt Explorer has 8 cabins to accommodate 16 divers and their fellow travelers on board. Boat's cabins equipped with tv screens and all have private showers. Every cabin has storage facilities. There are cabins with convertible beds, suits for double and for twin occupancy, depending on passengers requires. Staterooms on the board of Humboldt Explorer have big portholes to enjoy a gorgeous view of Pacific. Salon area of Humboldt Explorer is perfect to spend time between dives. It has entertainment facilities, like TV and DVD. The dining area is combined with a salon. The boat has also a covered sun deck with a jacuzzi. This is a superb place to watch sunsets.
Dive Deck
Humboldt Explorer's dive deck is big enough to prepare for the dive. It has storage facilities, plus it outfitted with a camera table and few charging points for photo equipment.
Safety
Humboldt Explorer has all needed equipment to ensure your safety on the board. Boat have first aid kit, oxygen on board, life vests and emergency rafts.
Boat for Photographers
Humboldt Explorer like other fleet's boats offers special facilities for marine photographers. On the board, they will find a large camera table to prepare equipment for the next dive and also charging point for cameras. There is a separate tank with fresh water to rinse cameras after diving. Humboldt Explorer routes include diving on many interesting dive spots for photographers.
Itinerary
Humboldt Explorer itineraries include diving on the well known Wolf and Darwin Islands. This area is a true paradise for divers. It is represented by a diversity of marine creatures like sea lions, mantas, and turtles, It is one of the best places to dive with sharks. Divers can meet Galapagos sharks, hammerheads, whale sharks. One of the points that included in diving trip on Humboldt Explorer is Punta Carrion. White tip sharks and mobula rays frequently seen there. One of the most famous dive spot, visited by Humboldt explorer is Darwin's arch. Diving here is a great chance to see vast schools of hammerheads and manta rays.
When to Go
There are two main seasons for diving on Galapagos Islands. From January to June last wet season, water temperatures in this time of the year usually higher, approximately 27 or 28°C. In July begins the dry season that lasts until December. Usually, water temperatures in this period are 19-23°C. To dive with sharks is better to choose months from June to November.

Humbolt Explorer is a perfect liveaboard for those who want to make vacations extraordinary. Together with this boat you can discover breathtaking underwater world of Pacific ocean and Galapagos's
Read more
Booking process
Booking
Select the cabin of your choice and enter your personal information. Submit the booking request. Once the booking is processed, you will receive an email notification with all booking details conveniently laid out in PDF.
Confirmation
Our team will contact the liveaboard on your behalf to confirm availability and other booking details. We put your place(s) on hold and get back to you within 24 hours. If there are any issues, we come back to you with alternative options.
Payment
Once your booking is confirmed, you will receive an email notification with payment instructions. You then have up to 72 hours to take care of other travel arrangements and process the transaction to secure your reservation.
Payment Terms & Cancellation Policy
Expand
Payment Terms & Cancellation Policy
Book with Divebooker and get extra benefits
No Booking Fees
Loyalty Club Benefits
FREE DAN Dive Insurance
Book Now Pay Later
Best Price Guarantee
Special Offers & Deals
24/7 Expert Support
Cabins
View deck plan
Twin / Double Cabin
Deck

Lower Deck

Bedding

Twin / Double (Convirtable)

Max occupancy

2 Guests

Ensuite Bathroom

Ensuite Bathroom

Aircon

Aircon

Number of Cabins

6 Cabins
The lower deck comprises six cabins, 3-8, each with a private bath and shower, television, window, and ample storage. All rooms except rooms 3 & 4 (forward below deck) can be converted to either one queen bed or two twin beds
Read more
Twin / Double Cabin
Deck

Main Deck

Bedding

Twin / Double (Convirtable)

Max occupancy

2 Guests

Ensuite Bathroom

Ensuite Bathroom

Aircon

Aircon

Number of Cabins

2 Cabins
The main deck features two guest cabins, 1 & 2, each with private bath and shower, television, ample storage and provides guests with an ocean view. Beds can be converted to either one queen bed or two twin beds
Read more
Reviews about Humboldt Explorer
Cabins & Facilities

Food & drinks

Guiding & Safety

Service & Infrastructure
The Galápagos, Wolf and Darwin
Verified review
A stunning trip, possibly one of the best ever. The Site of Sharks Bay on Wolf Island is fantastic, sitting and watching hundreds of Hammerheads, plus Turtles, Morays, Galápagos Sharks, and a host of different fish was memorable. The staff and guides were great and very helpful, life on board was regimented as we got into the swing of things, sleep eat dive repeat!! Great bunch of diving companions, many of whom l am in contact with now. The boat was a tad tired, in comparison with my last trip in the Maldives on the Blue Force One, but then you are in different waters. Food was ok, well filling, sorry but l have run catering establishments all my life so probably have high standards. Oh and if you like gelatine, you will be in heaven, as it is in almost all the deserts. All in all, a great dive and if you have the cash go for it.
Read more
Did I have good time yes, but for the price it had far to0 many cons.
Verified review
Here is my honest review of the trip. PLease note that this trip was done in early January 2019 and I have 150 dives before the trip. Cons: • First 2 dives before wolf and Darwin and 2 dives after were at very poor dive sites. There are such better dive sites around San Cristobal and Santa Cruz that could have easily been done instead so it was very disappointing! Given the price I expect to go to all good or at least decent dives sites. The first 2 dives was some of the worst dives I have ever done and made me nervous about the rest of the trip. (Darwin and wolf were great and so I was happy in the end)  • Darwin and wolf dives are very similar and at the end they decided to do this cavern dive to mix it up. This was different but not at all on the same caliber as the other dive sites and was a poor choice in my opinion. I don't care if we dive the same site over again if it's good, as each dive is always different. If they try to do the cave site just say no! It's some tiny small caverns with a swim through like 3m and then a 7m cave and you see a few turtles and it is not at all darwin or wolf quality dive. Also the current got crazy whirlpool current at the end of the dive to the point where it was dangerous as we were being shot up and down and we were not briefed on this therefore I was not expecting strong up and down currents. . So I was a bit upset they didn't brief this possibility. • They had 2 dive guides for 16 people. We are paying insane amounts of money for this liveaboard and groups of 8 (or in our case it ended up being 9) is just crazy! Especially given then conditions  At Darwin and wolf. Should be groups of 4 or maybe 6 max. I have never had a group bigger than 6 before this trip and have many dives.  • The dive guides were poor in that they didn't show us barely anything on any dives. They would just point out hammerheads. Which yeah I can clearly see. I didn't mind too much as we found our own stuff but something to note. Maybe because we had group of 9 and they had to focus on making sure everyone was together and okay.  • My spouse was beside the guide and pointed out a scorpion fish to show him it was there so he wouldn't get hurt and then scooped it into his hand. Very dangerous and you aren't suppose to touch anything, especially in Galapagos! Made us upset • They allowed people with far less than 100 dives to go on the trip even though it says minimum 100 dives. These people didn't even claim to have that. The one girl told them she had 36 dives and then there was an older lady who I'm not sure how many dives she had but she was so poor at diving, the guide actually held her hand the whole time. This is why we needed up with a group of 9 good divers and a group of 7. The dive guide was a baby sitter for the one women.  • There was a hot tub on the boat but we barely got to use it and when it was filled up it was never warm and then we kept complaining and then finally they heated it up to an insane 45C that no one could get it. A temperature system is very cheap and not hard to instal. It seems crazy to me that they didn't have this. • We had requested to have more meals outside as we had a one meal and it was great as the weather was very nice the whole time but nope they wouldn't allow it. Only 1 meal was planned to be outside so we only got 1 outside meal. How hard is it? All you do is set the outside table instead of the inside one???  • We were told to be up at 5:45 and get ready at 6. The first day the guides weren't awake till 6:15 so I could have slept in more! And then it was like this for the trip where often they were late and so people started sleeping in as well because who is going to get up at 5:45 if guides aren't ready to dive. Plan a time and everybody wake up then and get ready.  Pros  • Darwin and wolf we saw many many hammerheads, dolphins and even had some time playing with fur seals.  • The guides did a good job in letting us go over and play with the fur seals at the end of one of the dives. I enjoyed this very much.  • The food was very good. We ate very well for the week on board. Although desert after lunch and dinner gets to be a lot (complaining about too much food shouldn't be a complaint lol)! but they use lots of gelatin which got old.  Other notes • Darwin and wolf the dives were all very similar. And although I had a great time I was expecting some more variety of wildlife. Eg. school of rays or something in addition to the sharks. I mean seeing hammerheads 14 dives in a row in addition to some dolphins, Galapagos sharks, oceanic black tip sharks, silky sharks, white tips was very cool  and I was very happy but just thought I would let people know so as to what to expect. We dove from land from San Cristobal and Santa Cruz and had more variety like schools of rays, etc but you maybe see a couple hammerheads not schools. • Visibility wasn't great in second week of January (I don't think it's ever great though?) and while we saw hammerheads every dive, some of the dives you would just see a murky outline but sometimes they would get close and that is when it was real exciting. So with 14 dives there, chances are high some of those dives will be very special but not every dive was like that.  Conclusion: For the money it is very hard to justify this liveaboard company given all the cons. But the cons didn't ruin my trip as the diving at wolf and Darwin was very good and overall I had a good time. I would look into other boats to wolf and Darwin but if this boat is the only one in your budget then it's still worth doing.  PS: Divebooker is a great website to book through and made the booking of this trip very easy and stress free. I would 100% recommend Divebooker!
Read more
Very good experience
Verified review
We enjoyed our 8 day cruise extremely. We must admit that we were lucky and saw many whale sharks at Darwin and many hammerheads at Wolf. It was our best dive trip so far (we both got 90 dives). The cabins are well equiped but a bit run down (door did not close properly), a hole in the wall. Nevertheless we always had warm water, toilet was working fine and the bed was comfy. Our guides did a superb job and we got special equipment (gps and radio) in case we got lost. So safety was never an issue. The crew offered an awesome service. We got extra towels (sometimes warm) after each dive to quickly dry ourselves and a hot drink. What we did not like was the rental equipment which was so-so and there was no spare equipment, even though we told them months in advance. It's very pricey with 250 USD for a week (without dive computer), so we would have expected up to date equipment. One guide had to give his fins to a diver, because the only fins for rental were damaged. The food was a lot, actually too much for us. It was a pitty that they tried to cook European style, which of course did not always work out. We always had something good to eat but would have enjoyed local food more.
Read more
You also may be interested in
Other liveaboards in Ecuador