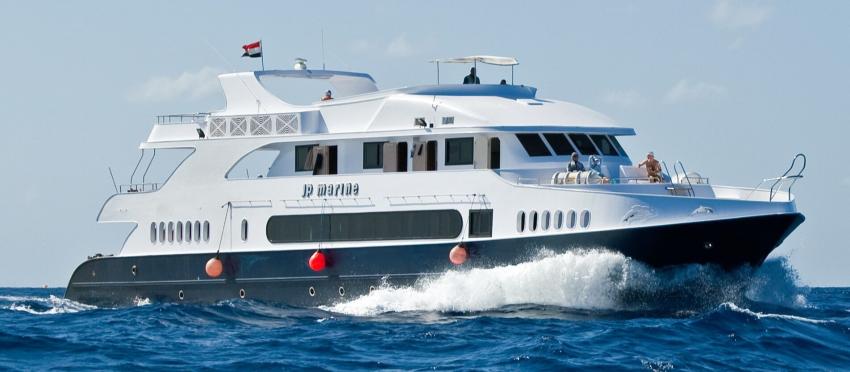 Overview

Schedule & Pricing

Cabins

Amenities

Reviews
COVID-19 Updated Booking & Cancellation Terms.
View terms
Equipment Rental

Surcharge
Fleet name

Dive Safari Master

Year built

2014

Length

36.5

Width

7

Capacity

28

Material

Wood
The boat offers great value for money. Boat's staff is extremely helpful and gives professional briefs. All the most famous diving destinations can be visited. Dive on reefs and walls of Marine Parks, or explore well-known wrecks.

Boat Interior
The liveaboard can offer accommodation for 28 passengers. Eights cabins located on the lower deck and the other six are on the upper deck. All cabins have twin beds and can be shared. There is air-conditioning in each room and all are en-suite. Upper deck cabins, in addition, have bigger windows. Time in between dives or after divers and their fellow travelers can comfortably spend in the salon. You can watch TV or DVD, listen to music or chat with other divers on board. The salon is cozy and spacious and it is good to relax. Another comfortable place on board to relax and enjoy the view is a sun deck. Under it's and you can read a book or just watch the marine scenery.

Dive Deck
The dive deck is spacious, it equipped with necessary facilities, storage boxes and rinsing tanks and freshwater shower. There is a separate tank for cameras and several charging points. Nitrox is available onboard.

Safety
Safety is always important. Crew team trained to manage emergency situations and now firs aid. Ther are life vests and emergency rafts on board, also fire fighting equipment in each cabin.

Itinerary
Diving itineraries are various. Divers can choose South routes and visit St. Johns or go to the North to discover famous wrecks of the Red Sea. Also divers can see underwater treasures of Brother, Daedalus, Elphinstone triangle. St. Johns recognized for great chances of meeting hammerheads. Its coral formations attract big amount of these amazing creatures. Brothers Islands, Daedalus, and Elphinstone is a true paradise for photo enthusiasts. They are reached with soft and hard corals. Also lots of colorful fish lives here. One of the main features of the Red Sea is its wrecks. Thistelgorm was sunken in 1945 while it was transporting guns and equipment. Divers can still see trucks and motorcycles that stands on its board. Another famous dive spot that can be visited is Abu Nuhas ship cemetery, which consists of 5 wrecks.

When to go
Egypt can offer good diving conditions all year. time from April till the middle of the Summer and then from September till December can be considered as a high season with the best diving conditions
Read more
Booking process
Booking
Select the cabin of your choice and enter your personal information. Submit the booking request. Once the booking is processed, you will receive an email notification with all booking details conveniently laid out in PDF.
Confirmation
Our team will contact the liveaboard on your behalf to confirm availability and other booking details. We put your place(s) on hold and get back to you within 24 hours. If there are any issues, we come back to you with alternative options.
Payment
Once your booking is confirmed, you will receive an email notification with payment instructions. You then have up to 72 hours to take care of other travel arrangements and process the transaction to secure your reservation.
Payment Terms & Cancellation Policy
Expand
Payment Terms & Cancellation Policy
Book with Divebooker and get extra benefits
No Booking Fees
Loyalty Club Benefits
FREE DAN Dive Insurance
Book Now Pay Later
Best Price Guarantee
Special Offers & Deals
24/7 Expert Support
Cabins
View deck plan
Twin Cabin
Deck

Lower Deck

Bedding

Twin Beds

Max occupancy

2 Guests

Ensuite Bathroom

Ensuite Bathroom

Aircon

Aircon

Number of Cabins

8 Cabins
Twin bed cabins, en-suite with air-conditioning
Read more
Twin Cabin
Deck

Upper Deck

Bedding

Twin Beds

Max occupancy

2 Guests

Ensuite Bathroom

Ensuite Bathroom

Aircon

Aircon

Number of Cabins

6 Cabins
Twin bed cabins, en-suite with air-conditioning
Read more
Reviews about JP Marine
Cabins & Facilities

Food & drinks

Guiding & Safety

Service & Infrastructure
Very pleasant trip
Verified review
We overall had a very good experience with JP Marine. Starting from the airport a driver was waiting for us (although a bit late) and we went to a beach resort to wait for the shuttle to Port Ghalib. We had an extra request to try 2 different sizes of wetsuits and Victoria the fleet manager came twice to give and collect the suits. The boat is well built and compared to other ones (more expensive) well maintained on the outside. The cabine size is ok, a little more space for our personal stuff would be a plus. Also door hooks would be good. The cleaning was not great at first and we asked for an extra in the bathroom and then it was fine. On the outside i would be great to have a lot of hangers as well along the corridor and definitely more clothes pegs and racks. One weird thing as well is that the cabin door doesn't have a lock. So once a crew member didn't hear me and opened the door (after knocking) and the second time a late guest mistakenly opened our door. A key is clearly not needed but a mechanism to close from the inside would be definitely appreciated especially when it happens twice on the first day!!! After a rough first day the rest went well. The highlight of the trip was definitely the food. It was truly excellent, meat, fish, veggies, desert, great variety (maybe we needed more fresh fruits). The chef was perfect! We always had enough (the boat was full with 28 passengers), and not too much waste. The crew is also super nice, always helpful (sometimes a tad too much). The 2 guides were also very nice, respectful of the sea life and excellent divers. No issue security wise. 2 guides for 28 is something I was not aware of while paying but in the end it was fine as the whole group had a lot of experience. For those who dive in Asia it is a big change as we are used to smaller group. Renting gear is ok, not from this diving season i think. I would definitely recommend this boat
Read more
Awesome time on the JP Marine
Verified review
Both JP Marine and Divebooker provided my friends and I with a great service. Divebooker were fast and efficient meeting all our needs and queries throughout the booking phase. Out of all the boats we saw around the south islands of the Red Sea JP Marine was most definitely one of the best. It is kept well and the crew on board are a lot of fun and extremely helpful. The food and cabins were top notch. Expect to be woken up earlier than usual so as to maximize diving time. Diving briefs are professional and our group on board was made up of 13 nationalities which was great. I would recommend this liveaboard.
Read more
Amazing week in the Red Sea!
Verified review
In October 2018, we did the BDE route in the Red Sea with the JP Marine safari - we had a truly fantastic time - facilities on board where outstanding, very good value! Highlight of the trip was the hammerhead encounter at depth. Thank you Divebooker for the good service prior to the trip and JP Marine for the great vacation. Looking forward to booking our next trip!
Read more
You also may be interested in