Mermaid II Liveaboard
View trips & availability
Book now – pay after confirmation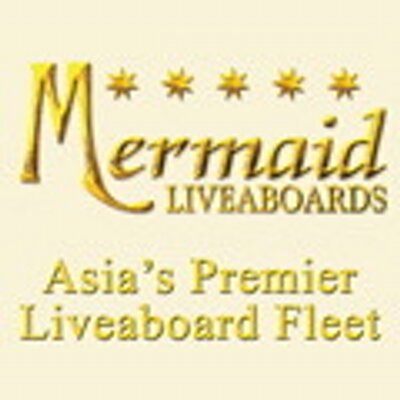 Mermaid Liveaboards
Boat specification
Year built:

2000

Last dry dock date:

January, 2014

Last renovation date:

January, 2014

Length / Width:

33 m / 7 m

Material:

Steel

Capacity:

16

Languages:

English
View full specification
Services available
Nitrox: Surcharge
Wifi: Surcharge
Divers with disabilities: No
Tech diving: No
Double Cabins: Yes
other services
Mermaid II is a part of Mermaid Fleet. This modern boat offers to explore treasures of Indonesia.
Boat Interior
Mermaid II can welcome 16 divers on board. There are eight deluxe cabins, that supplied with air conditioner and private facilities. Also, they have panoramic windows with a gorgeous view of Indonesian blue water. 2 budget rooms are convenient too, has the same facilities as deluxe, but slightly smaller. Time in between and after dives boats passengers can spend in the salon. It is comfortable for chatting with other passengers, here you can enjoy the movie or use boats library that has a full range of marine life books. Also, Mermaid II has open air areas. It is perfect to relax in the sun, watch the sunset or read a book on one of the sunloungers.
Dive Deck
Large dive deck of Mermaid II is convenient, equipped with fresh water shower and numerous of storage boxes for the gear. Plus, it has a special area for photographers, a big camera table and a separate tank for rinsing photo equipment after the dive. Mermaid II can supply divers with EANx certification with Nitrox.
Safety
Mermaid II equipped with necessary safety equipment, first aid kit, life vests, emergency rafts. Crew team is trained to manage emergency situations.
Itinerary
Mermaid II offers to visit Raja Ampat, Banda Sea, and Komodo Island. These itineraries are the top routes for diving in Indonesia. There are so many different types of corals and fish in RajaAmpat, that it can't leave anyone indifferent. Sharks and such an extraordinary creatures like wobbegongs can be often guests of Raja Ampat. Komodo National Park is represented by coral walls and pinnacles, also this natural reserve is a true paradise for macro diving. Besides dolphins and mantas, nudibranchs and blue-ringed octopus can be seen here. The Banda Sea is a well-known destination of Indonesia for a chance to meet big pelagic fish.
When to Go
Komodo National Park is best to see between April and August. Although diving is good here all year round. As for Raja Ampat, diving conditions are the best from October til the end of April.
Mermaid I is a perfect liveaboard for divers who want to discover the best of Indonesia. Beside she provides you with a comfort and safety and a professional crew team
Trips & availability Mermaid II2017-05-25 20:28:46
More info & book
Bali – Komodo – Bali (7 Nights Trip)
8 Days / 7 Nights (Approximately 20 dives)
Departure port:

Benoa

Return port:

Benoa
Specify the dates of your planned trip to browse through the available options or
view full schedule
More info & book
Biodiversity Super Special (Maumere – Alor – Banda Sea – Raja Ampat) (15 nights)
16 Days / 15 Nights (Approximately 50 dives)
Departure port:

Maumere

Return port:

Port of Sorong
Specify the dates of your planned trip to browse through the available options or
view full schedule
More info & book
Raja Ampat (8 Nights trip)
9 Days / 8 Nights (Approximately 24 dives)
Departure port:

Port of Sorong

Return port:

Port of Sorong
Specify the dates of your planned trip to browse through the available options or
view full schedule
Cabins Mermaid II
Deluxe Cabin (Double & Single bed)

Deck:

Main Deck

Bedding:

Double bed + Twin bed (bunk-style)

Max occupancy:

2

Ensuite bathroom:

Yes

more info

Budget Cabin

Deck:

Lower Deck

Bedding:

Twin beds (bunk-style)

Max occupancy:

2

Ensuite bathroom:

No

more info
Additional options Mermaid II
All these services you can order when booking
Equipment Rental
Courses and Specialities
Full Equipment Rental (per 10 night trip) Rate Plan Equipment & CoursesEUR

180

Full Equipment Rental (per 7 night trip) Rate Plan Equipment & CoursesEUR

126

Full Equipment Rental (per 11 night trip) Rate Plan Equipment & CoursesEUR

198

Full Equipment Rental (per day) Rate Plan Equipment & CoursesEUR

18

Full Equipment Rental (per 8 night trip) Rate Plan Equipment & CoursesEUR

144

Full Equipment Rental (per 15 night trip) Rate Plan Equipment & CoursesEUR

270

Full Equipment Rental (per 9 night trip) Rate Plan Equipment & CoursesEUR

162

Mask + Snorkel Rental (per day) Rate Plan Equipment & CoursesEUR

6

Open Heel Fins + Boots Rental (per day) Rate Plan Equipment & CoursesEUR

8
Fins Rental (per day) Rate Plan Equipment & CoursesEUR

6

Short Wetsuit Rental (per day) Rate Plan Equipment & CoursesEUR

6

Full Wetsuit Rental (per day) Rate Plan Equipment & CoursesEUR

6

BCD Rental (per day) Rate Plan Equipment & CoursesEUR

6

Regulator Rental (per day) Rate Plan Equipment & CoursesEUR

6

Computer Rental (per day) Rate Plan Equipment & CoursesEUR

5

Underwater Camera Rental (per day) Rate Plan Equipment & CoursesEUR

20

Compass Rental (per day) Rate Plan Equipment & CoursesEUR

5
You also may be interested in