King Snefro 3 Liveaboard
View trips & availability
Book now – pay after confirmation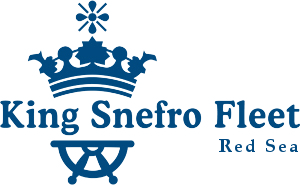 King Snefro Fleet
Boat specification
Year built:

2009

Last dry dock date:

April, 2014

Length / Width:

23 m / 6 m

Material:

Wood

Capacity:

10

Languages:

Arabic, English, German
View full specification
Services available
Nitrox: Surcharge
Wifi: Free
Divers with disabilities: No
Tech diving: No
Double Cabins: No
other services
King Snefro 3 is a member of King Snefro Fleet. This boat was built in 2009 a renewed in 2014. She is ideal for exploring underwater world of Egypt in small groups up to 10 divers.
Boat Interior
King Snefro 3 Liveaboard can welcome passengers in 5 cabins. All are place on lower deck. You can choose a cabin with bunk beds, share a twin-berth room with another diver or stay in a spacious master cabin, that has all private facilities, mini-bar, and big double bed.
In between dives passengers of King Snefro 3 can stay at a salon that has with comfortable seats. Meals served buffet style and for your comfort, you can always find water, tea, coffee, soft drinks and snacks at the bar. While you are not diving, you can use TV, DVD Player, and the music system. Plus all guests of King Snefro 3 Liveaboard can enjoy stunning views of the Red Sea on boats sun deck.
Dive Deck
Dive deck on King Snefro 3 Liveaboard has plenty of space to store your dive gear. Also, it equipped with 2 ladders to make easy your entry and exit. The yacht has a zodiac to make your trip to dive spot comfortable.
Safety
King Snefro 3 safety is ensured by a high experience of the boat crew. The yacht is holding ISO Certification for Recreational Diving Service Providers (EUF: S 000062 till 30.06.2016), is a member of Chamber of Diving and Watersports (CDWS: SSSB 0013 S). King Snefro 3 reliability answer high standards of safety.
For Experienced Diver
If your qualification in diving is high and you are an experienced diver, it can be interesting for you to discover famous world War II sunken ships. King Snefro 3 offers to try diving on Dunraven and Thistlegorm, where you can still see trucks and motorcycles that lie on a board of this wrecks.
Itinerary
King Snefro 3 Liveaboard itinerary includes all the most attractive dive spots of Sinai North. Discover gorgeous Yolanda Reef - wide plateau with a coral garden and masses of pinnacles that are teeming with fish. Explore well-known Strait of Tiran, that includes Jackson and Gordon Reef. The southernmost of the four famous Straits of Tiran reefs can be easily recognized by the remains of the Louella shipwreck protruding from the surface.
When to go
You can dive in the Red Sea all year round. The best time for diving here is from the end of March to the end of November. Average water temperature is about 28C/82F even at 30 m/98 ft deep in summer months.
Together with King Snefro 3 Liveaboard, you can get extraordinary diving vacations. A colorful variety of corals and fish will impress even experienced diver. Explore variety of dive sites that the Red Sea can offer
Trips & availability King Snefro 32016-06-07 18:06:20
Cabins King Snefro 3
Master Suite

Deck:

Lower Deck

Bedding:

Double bed

Max occupancy:

2

Ensuite bathroom:

Yes

more info

Twin Berth Cabin

Deck:

Lower Deck

Bedding:

Twin beds

Max occupancy:

2

Ensuite bathroom:

No

more info

Twin Berth Cabin (bunk-style)

Deck:

Lower Deck

Bedding:

Twin beds (bunk-style)

Max occupancy:

2

Ensuite bathroom:

No

more info
Additional options King Snefro 3
All these services you can order when booking
Equipment Rental
Courses and Specialities
Manifolds (per Day) Equipment Rental and CoursesEUR

80

SMB Rental (per Day) Equipment Rental and CoursesEUR

10

Full Equipment Rental (incl. Computer&Torch) (per Day) Equipment Rental and CoursesEUR

35

Full Equipment Rental (excl. Computer&Torch) (per Day) Equipment Rental and CoursesEUR

35

Mask + Snorkel Rental (per Day) Equipment Rental and CoursesEUR

3

Open Heel Fins + Boots Rental (per Day) Equipment Rental and CoursesEUR

5

Closed or Open Heel Fins Rental (per Day) Equipment Rental and CoursesEUR

3

Boots Rental (per Day) Equipment Rental and CoursesEUR

3

Short Wetsuit Rental (per Day) Equipment Rental and CoursesEUR

7
Full Wetsuit Rental (per Day) Equipment Rental and CoursesEUR

10

BCD Rental (per Day) Equipment Rental and CoursesEUR

10

Regulator Rental (per Day) Equipment Rental and CoursesEUR

10

Computer Rental (per Day) Equipment Rental and CoursesEUR

10

Torch Rental (per Day) Equipment Rental and CoursesEUR

7

Underwater Camera Rental (per Day) Equipment Rental and CoursesEUR

50

Compass Rental (per Day) Equipment Rental and CoursesEUR

30

Tank 15 Litre Rental Equipment Rental and CoursesEUR

30

Full Equipment Rental (excl. Computer&Torch) (per 7 Nights Trip) Equipment Rental and CoursesEUR

200
Reviews about King Snefro 3
You also may be interested in