Bilikiki Liveaboard
View trips & availability
Book now – pay after confirmation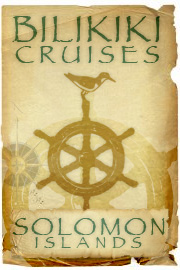 Bilikiki Cruises
Boat specification
Year built:

1966

Last renovation date:

January, 2013

Length / Width:

38 m / 7.5 m

Material:

Steel

Capacity:

20

Languages:

English, German, Italian, Russian, Spanish
View full specification
Services available
Nitrox: Surcharge
Wifi: No
Tech diving: No
Double Cabins: Yes
other services
Bilikiki is a most spacious boat on Solomon Islands.
Boat Interior
Bilikiki has 10 staterooms, all are equipped with private facilities. Cabins are located on lower deck. Divers can book an entire cabin or share twin stateroom with another diver. Also, each room has storage facilities, that can be useful during the trip. Salon area is large, it has necessary facilities for you to feel comfortable, relaxed after the day of diving, chat with other divers on board. Meals are served in open air diving area, where you can also enjoy the gorgeous view. Sun deck has a number of sun loungers, it is ideal to observe the marvelous scenery.
Dive Deck
Bilikiki has a diving platform, with comfortable access to the water. It is big, comfortable to prepare for the dive. Here divers will find numerous of storage boxes for the gear and a camera table, comfortable to maintain your equipment.
Safety
To ensure your safety Bilikiki has life rafts and life vests, first aid kit, fire alarm fire extinguishers, etc. Crew team is trained to manage emergency situations.
Photographers Friendly
Bilikiki suits for photo enthusiasts. Boat equipped with a large camera table. Besides, a boat has separate camera room, dive deck supplied with a rinsing tank for a camera. Bilikiki Liveaboard can offer trips dedicated to marine photography. Even divers with none experience can take part in expeditions with experienced photographers. Even if you haven't such experience yet, you can still be a part of a trip.
Itinerary
Bilikiki is one of the few boats that offers Solomon Islands itineraries. This destination is not much crowded, it's nature is still unspoiled by tourists. Its reefs are full of different fish. Plentiful of clown fish, angel fish and butterfly fish lives between coral reefs and walls of Solomon Islands. This area is popular for macro diving. Manta shrimp, ghost pipefish, and pygmy seahorses inhabit this destination.
When to Go
To visit of Solomon Islands is better to choose months between May to October. Average water temperature is from 27С/80F. There is a period of the heaviest rainfalls occurs from November to April.
A diving trip on Bilikiki is a unique possibility to discover unspoiled Solomon Islands. This is a magnificent opportunity for photo enthusiasts as well
Trips & availability Bilikiki2016-10-17 19:00:59
More info & book
14 nights trip Solomon Islands
15 Days / 14 Nights (Approximately 60 dives)
Departure port:

Honiara

Return port:

Honiara
Specify the dates of your planned trip to browse through the available options or
view full schedule
More info & book
11 nights trip Solomon Islands
12 Days / 11 Nights (Approximately 50 dives)
Departure port:

Honiara

Return port:

Honiara
Specify the dates of your planned trip to browse through the available options or
view full schedule
More info & book
10 nights trip Solomon Islands
11 Days / 10 Nights (Approximately 45 dives)
Departure port:

Honiara

Return port:

Honiara
Specify the dates of your planned trip to browse through the available options or
view full schedule
More info & book
7 night trip Solomon Islands
8 Days / 7 Nights (Approximately 30 dives)
Departure port:

Honiara

Return port:

Honiara
Specify the dates of your planned trip to browse through the available options or
view full schedule
Cabins Bilikiki
Twin Cabin

Deck:

Lower Deck

Bedding:

Twin beds

Max occupancy:

2

Ensuite bathroom:

Yes

more info

Double Cabin

Deck:

Lower Deck

Bedding:

Double bed + Twin bed (bunk-style)

Max occupancy:

2

Ensuite bathroom:

Yes

more info
Additional options Bilikiki
All these services you can order when booking
BCD, Reg & Computer Package (7 Night trip) Rate Plan Equipment & CoursesEUR

180

BCD & Reg Package (10 night trip package) Rate Plan Equipment & CoursesEUR

180

BCD, Reg & Computer Package (10 night trip package) Rate Plan Equipment & CoursesEUR

270

BCD & Reg Package (14 night trip package) Rate Plan Equipment & CoursesEUR

260

BCD, Reg & Computer Package (14 night trip package) Rate Plan Equipment & CoursesEUR

390

BCD & Reg Package (7 night trip package) Rate Plan Equipment & CoursesEUR

120

Mask + Fins + Boots Rental Rate Plan Equipment & CoursesEUR

10

BCD Rental (10 night trip package) Rate Plan Equipment & CoursesEUR

130

BCD Rental (14 night trip package) Rate Plan Equipment & CoursesEUR

90

BCD Rental Rate Plan Equipment & CoursesEUR

13
BCD Rental (7 night trip package) Rate Plan Equipment & CoursesEUR

60

Regulator Rental (14 night trip package) Rate Plan Equipment & CoursesEUR

130

Regulator Rental Rate Plan Equipment & CoursesEUR

13

Regulator Rental (7 night package) Rate Plan Equipment & CoursesEUR

60

Regulator Rental (10 night trip package) Rate Plan Equipment & CoursesEUR

90

Computer Rental (10 nights trip package) Rate Plan Equipment & CoursesEUR

90

Computer Rental (14 night trip package) Rate Plan Equipment & CoursesEUR

130

Computer Rental Rate Plan Equipment & CoursesEUR

13

Computer Rental (7 night trip package) Rate Plan Equipment & CoursesEUR

60

Torch Rental Rate Plan Equipment & CoursesEUR

10
You also may be interested in
Other liveaboards in Solomon Islands