Spirit of Freedom Liveaboard
Spirit of Freedom Liveaboard
View trips & availability
Book now – pay after confirmation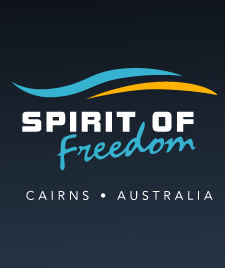 Spirit of Freedom
Boat specification
Year built:

1992

Length / Width:

37 m / 7.1 m

Material:

Steel

Capacity:

26

Languages:

Dutch, English, French, Japanese
View full specification
Services available
Nitrox: Surcharge
Wifi: Free
Divers with disabilities: No
Tech diving: No
Double Cabins: Yes
other services
Spirit of Freedom a custom built boat for divers, designed to make a diving safari in Australia comfortable.
Boat interior
Spirit of Freedom ha 11 cabins for 26 passengers. Six double cabins located on the lower deck. This room has an additional single upper bed, so they can be booked for double occupancy or share with another diver. There is also a quad room suited for family vacations. All these cabins are en-suite, has air conditioning and plenty of storage facilities. Double stateroom also located on the lower deck. This cabin is slightly bigger and has a TV and DVD.

Two types of cabins are on the upper deck standard and Deluxe. They feature with big portholes and gorgeous ocean view. All room has private bathrooms and individually controlled air conditioning, wardrobes for personal belongings.

There are many places to spend time in between and after dives on a board of Spirit of Freedom. Boats dining area where meals are served can be used for working with laptops. It also has a flat screen TV. In the boats, salon passengers can drink tea or coffee, watch TV or use boats library. There is also a separate space for working with cameras. Boats bar offers to try some excellent Australian and New Zealand wines. beer and soft drinks.
Dive deck
Spirit of Freedom has a big convenient dive deck with a diving platform. Here divers can prepare for the dive and store the gear. Dive deck equipped with two compressors and a nitrox membrane. Some equipment items can be rent on board.
Safety
Safety is always in the first place for a team of Spirit of Freedom liveaboard. Boat has first aid kit, life rafts and life vests, fire fighting equipment. Boats crew trained to manage emergency situations.
Diving with whales
There are not many opportunities to meet such gorgeous creatures like whales. June and July passengers of Spirit of Freedom can meet minke whales near the great Barrier reef. Every year they migrating along the reef and sometimes whales' nature brings them close to the boat where divers and snorkelers can enjoy observing them.
Reef conservation
Spirit of Freedom has been accredited as an Advanced Ecotourism Operator that means that boats crew pays special attention to reef conservations. Great Barrier Reef is a home for many fish and coral species, damage done to a reef can influent on world's marine ecosystem. Spirit of Freedom liveaboard takes part in a Company which aims to reduce carbon emission and save Great Barrier Reef.
Itineraries
Spirit of Freedom' offers 3 and 4 nights itineraries. You can dive at Cod Hole and Ribbon Reef. These destinations can be considered as the most amazing and famous between divers. Giant potato cod is the main attraction of Cod Hole. They are friendly and divers brings them treats. It's a home for sweetlips, triggerfish, scorpionfish and many others. Macro diving is great at Cod Hole and Ribbon Reef. Plenty of pygmy seahorses can be found in gorgonians.
When to Go
Diving at Great Barrier Reef possible all year round. Average water temperature ranges from between 22°C and 29°C. Best diving conditions are from September to November.
Spirit of Freedom gives an amazing opportunity to dive with minke whales and explore Great Barrier Reef. It perfectly fits for family vacations and friendly holidays
Spirit of Freedom trips & availability2017-09-21 21:37:49
More info & book
Cod Hole & Ribbon Reef (3 night trip)
4 Days / 3 Nights (Approximately 11 dives)
Departure port:

Cairns

Return port:

Cairns
Specify the dates of your planned trip to browse through the available options or
view full schedule
More info & book
7 night Adventure Cod Hole, Ribbon Reef & Coral Sea (7 night trip)
8 Days / 7 Nights (Approximately 26 dives)
Departure port:

Cairns

Return port:

Cairns
Specify the dates of your planned trip to browse through the available options or
view full schedule
More info & book
Coral Sea and Ribbons Reef Adventure (4 night trip)
5 Days / 4 Nights (Approximately 15 dives)
Departure port:

Cairns

Return port:

Cairns
Specify the dates of your planned trip to browse through the available options or
view full schedule
Spirit of Freedom cabins
Ocean View Deluxe Cabin (#13)

Deck:

Upper Deck

Size:

8.5 m2

Bedding:

Double bed

Max occupancy:

2

more info

Ocean View Standard Cabin (#12)

Deck:

Upper Deck

Size:

5.2 m2

Bedding:

Double bed

Max occupancy:

2

more info

Stateroom (#1)

Deck:

Lower Deck

Size:

9.2 m2

Bedding:

Double bed

Max occupancy:

2

more info

Standard Double/Twin Cabin (## 2, 3, 4, 7, 8, 9)

Deck:

Lower Deck

Size:

7.2 m2

Bedding:

Double bed + Twin bed (bunk-style)

Max occupancy:

2

more info

Quad Cabin (## 5, 6)

Deck:

Lower Deck

Size:

7.2 m2

Bedding:

2 Twin beds + 2 Twin beds (bunk-style)

Max occupancy:

4

more info
Spirit of Freedom additional options
All these services you can order when booking
Equipment Rental
Courses and Specialities
4 Day Full Equipment Rental Courses & Equipment Rate PlanEUR

160

7 Day Full Equipment Rental Courses & Equipment Rate PlanEUR

245
3 Day Full Equipment Rental Courses & Equipment Rate PlanEUR

120
Spirit of Freedom reviews
You also may be interested in
Other liveaboards in Australia
Best destinations for liveaboard trips