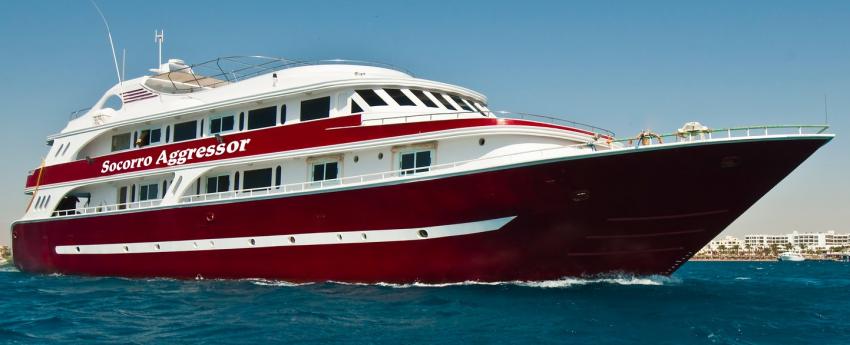 Socorro Aggressor Liveaboard
Overview

Schedule & Pricing

Cabins

Amenities

Reviews
Equipment Rental

Surcharge
Large shaded sun deck with lounges. Full photo center with a camera table and a PC for downloading photos. Cabins equipped with individual climate control, monitor and video center. Dive at Guadalupe and Socorro most well-known destinations of Mexico.

Boat interior and exterior
Socorro Aggressor can accommodate up to 26 passengers in 13 spacious cabins. Master stateroom has queen beds, and deluxe cabins equipped with twin beds or double beds. Rooms are located on the lower and on the main deck. In between dives passengers of SocorroAggressor can spend time in the salon supplied with entertainment facilities, on the shaded sun deck with sun loungers.

Diving
There are two options of cage diving for Guadalupe on board of Socorro Aggressor. The boat offers an unlimited number of dives in surface cages and up to three dives in submersible cages. Submersive dives are available only for certified divers. The first option with surface cage available for uncertified divers as well. The yacht also provides 12 l tanks with K-valves (American type) and DIN (International) valves.

Safety, and navigation
Socorro Aggressor equipped with all necessary safety gear includes life rafts, emergency oxygen, life vests.

Diving features
Boat's guests can choose from the two most well known Mexican destinations Socorro and Guadalupe. You can meet several types of sharks while diving on Socorro hammerheads, silkies, silvertips, Galapagos sharks, tiger sharks oceanic whitetips, and even whale sharks. But not only sharks attract divers to this destination. Mantas, dolphins, and whales can be seen. Guadalupe is famous for its great white sharks. If you want to see these gorgeous dangerous creatures you need to go to Guadalupe.

When to Go
Guadalupe season starts in August and ends in November. Water is calm in this time of the year and temperature ranges from 19C to 22C (66 to72F). November to June is the best time to dive at Socorro dive spots. During the winter months, it is more likely to meet whales. Outside these months water temperature is about 23-26C (73 to 79F) and mantas and sharks visit Socorro Island
Read more
Booking process
Booking
Select the cabin of your choice and enter your personal information. Submit the booking request. Once the booking is processed, you will receive an email notification with all booking details conveniently laid out in PDF.
Confirmation
Our team will contact the liveaboard on your behalf to confirm availability and other booking details. We put your place(s) on hold and get back to you within 24 hours. If there are any issues, we come back to you with alternative options.
Payment
Once your booking is confirmed, you will receive an email notification with payment instructions. You then have up to 72 hours to take care of other travel arrangements and process the transaction to secure your reservation.
Payment Terms & Cancellation Policy
Expand
Payment Terms & Cancellation Policy
Book with Divebooker and get extra benefits
No Booking Fees
Loyalty Club Benefits
FREE DAN Dive Insurance
Book Now Pay Later
Best Price Guarantee
Special Offers & Deals
24/7 Expert Support
Cabins
View deck plan
Master Stateroom (#9)
Deck

Lower Deck, Main Deck

Bedding

Double Bed

Max occupancy

2 Guests

Aircon

Aircon

Number of Cabins

1 Cabin
A comfortable stateroom with a queen bed with a private head and shower, individual climate control, monitor with media player USB/110V outlet, bathrobes, fresh towels, and hairdryer. Porthole in #1 & 2; picture window #9, #12, #13
Read more
Deluxe Stateroom (#1-8, 10 & 11, 12 & 13)
Deck

Lower Deck, Main Deck

Bedding

Twin / Double (Convirtable)

Max occupancy

2 Guests

Ensuite Bathroom

Ensuite Bathroom

Aircon

Aircon

Number of Cabins

12 Cabins
A comfortable stateroom with two single beds (side by side, #1 - 8 with a port hole, #10 & 11 with a picture window) or two twins or a king bed (#12 & 13 with a picture window), private bathroom and shower. Your stateroom is the perfect place to read a book, nap in between dives and fully recharge for the next day
Read more
Reviews about Socorro Aggressor
Cabins & Facilities

Food & drinks

Guiding & Safety

Service & Infrastructure
Amazing safari
Verified review
Enjoy so much. The Crew were wonderful like the dives... We saw lots of mantas, sharks, dolphins. The weather was good also. The ship very comfortable.
Read more
Socorro Dec 2020
Verified review
This was truly a wonderful dive experience. There were rays and sharks on every dive which was fantastic. The rays were extremely friendly and I'll just say WOW. Additional highlights included seeing dolphins up close and personal as well as a handful of schooling hammerhead experiences. It's going to be hard to going back to macro. The divemasters were great. They were friendly, always helpful and made for a great trip. The same could be said of the host and hostess. Great people. I liked the boat as it had plenty of areas to relax. The rooms had side by side twins which is more comfortable than bunks in my opinion. Some passengers remarked that the boat could use a refresh and was a little older. While true, I still enjoyed the boat. Socorro diving is weather and "other boat" dependent in terms of where and when you can dive. The impact on our trip was that we only dove four sites. Great dives to be sure, but when half of your trip is at one site (El Canyon) one wonders what they missed. We didn't go to Roca which I would have liked to do. The food was really disappointing unfortunately. There were a lot of basic brothy soups with little to no substance or taste. The main courses were nothing to write home about. I'm not a picky eater at all and yet I pushed aside half portions of my dinners because they just weren't worth it. It seemed like we had a short order cook as opposed to a chef.
Read more
You also may be interested in