Arenui Liveaboard
View trips & availability
Book now – pay after confirmation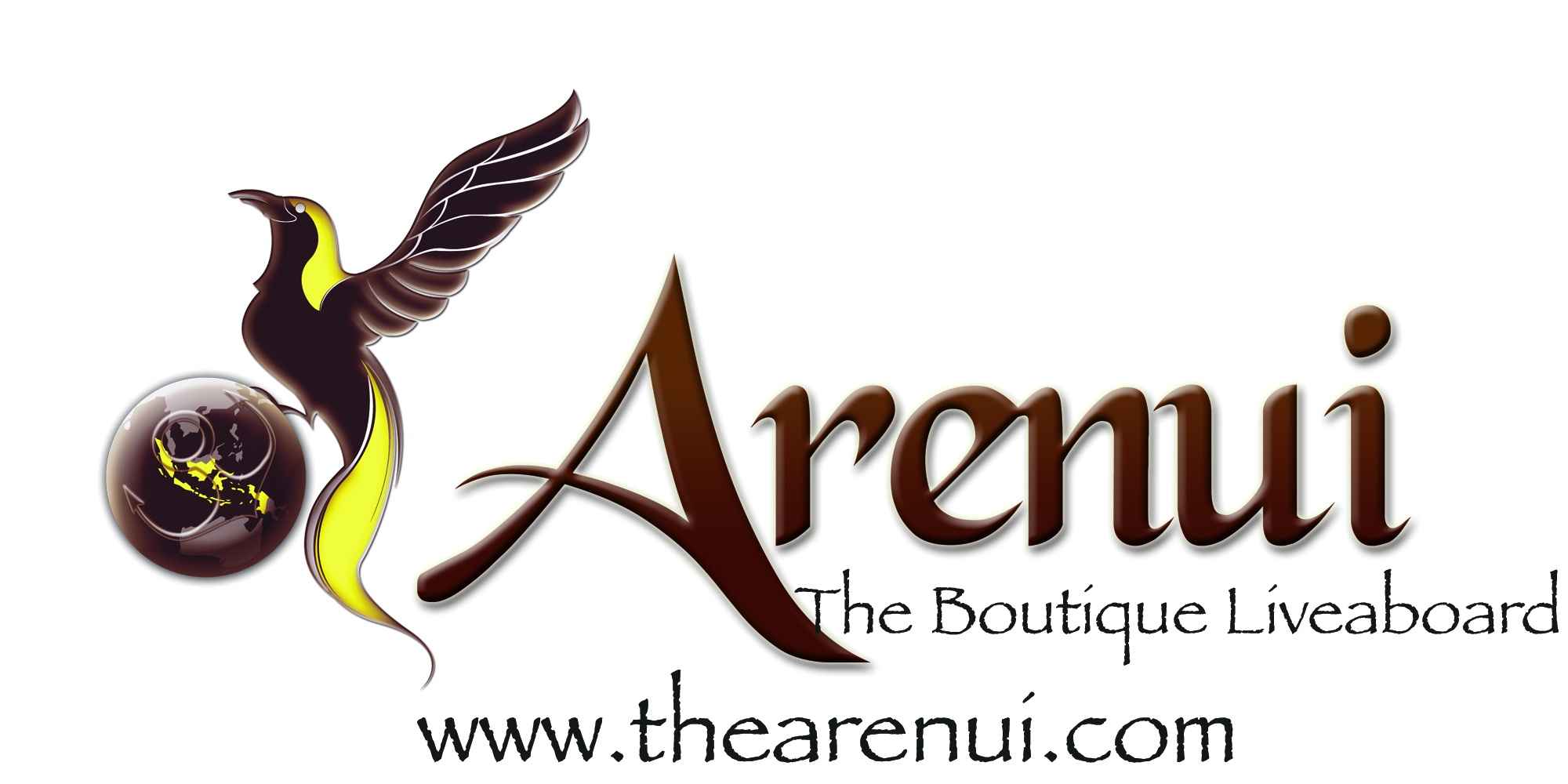 Arenui The Boutique Liveaboard
Boat specification
Year built:

2007

Last renovation date:

August, 2016

Length / Width:

43 m / 9 m

Material:

Wood

Capacity:

19

Languages:

English, German, Spanish, indonesian, Swiss
View full specification
Services available
Nitrox: Surcharge
Wifi: Surcharge
Divers with disabilities: No
Tech diving: No
Double Cabins: Yes
other services
Arenui is a modern Indonesian vessel made in traditional style. She offers to explore Indonesian underwater life under the sails.
Boat interior
Arenui liveaboard has 8 cabins to accommodate 16 passengers. Each room has its own name. Wooden walls and decor give cabins a sense of traditional style. Rooms are ensuite and have air conditioning. Master suites are located on the stern, they are spacious and light. From the private balcony of this cabins, divers can watch enjoy a breathtaking sea view. Deluxe staterooms have a variety of accommodations. There are double bed cabins and twin rooms that can be shared. Also two cabins with a double and single bed. Through the big portholes of deluxe passengers can watch marine scenarios. There are also plenty of storage places on board including, safety boxes for personal belongings and minibars in each cabin.
Boats lounge stretches on the length of the boat. It is perfect to relax after diving. There are a TV and big cozy sofas in each corner of the lounge area. It is combined with dining area. Boats cook offers ti try some delicious food and also snacks are served here.
Arenui has several open air parts where boats guest can relax and spend evening or time in between dives. A sky lounge with big and cozy sun beds made of wood and a sky restaurant. There is a telescope to watch the stars and two antique spotlights that were saved from a french ship. This boats part is ideal to enjoy the breathtaking view.
Dive deck
Dive deck of Arenui liveaboard is located in front of a restaurant. Divers can comfortably prepare for the dive on sofas. Equipment can be maintained after the dive in rinsing tanks. There is also a hanging area to dry your wetsuit or other equipment items.
Safety
Arenui liveaboard has all necessary safety equipment on board, there is a full stocks first aid kit, life vest for each passenger, fire fighting equipment, buoys, and oxygen.
Photographers equipment
Arenui liveaboard suits for photography cruises. Boats lounge equipped ith PC for shared use to work with photos made by day. There are several charging points as well. Arenui liveaboard itineraries include special trips for underwater photography enthusiasts features famous marine photographers.
Itineraries
Arenui itineraries give an opportunity to visit almost all the best of Indonesia diving. There are trips to Komodo National Park, Raja Ampat, Alor and Forgotten Islands. Boat also offers special trips with photographers and marine biologists. Seamounts and pinnacles make this destination truly unforgettable. Lots of corals attract different fish, reef sharks and tuna. Komodo suite for macro diving with nudibranchs and pygmy seahorses. Raja Ampat is a unique destination with a wide variety of sea creatures. It holds the world's record of an amount of coral and fish types. Even experienced divers will be impressed by the diversity of Raja Ampat. You can spot jacks and batfish, hermit crabs and cuttlefish can be seen. Divers can even meet rare wobbegongs. There are several points where manta rays are frequent guests. Forgotten Island is a destination that gives you an opportunity to dive in a drop-off, along the walls and reefs. Corals of Forgotten Islands are home for lots of creatures. Many pelagics can be also spotted, including hammerheads.
When to go
Each destination that Arenui liveaboard offers has different seasonality. Komodo Island is a year round destination but from March to November water temperature a visibility are the best. The high season for Raja Ampat is from October to May. The water temperature is averaging at 28C/82F throughout the year.
Make your vacation unforgettable. Dive together with Arenui, try the delicious food on its board and enjoy the breathtaking view. This boat has everything to make you diving vacation in Indonesia entertaining and fun
Arenui trips & availability2017-10-15 22:07:49
More info & book
Raja Ampat (Sorong - Sorong) (10 night trip)
11 Days / 10 Nights (Approximately 32 dives)
Departure port:

Port of Sorong

Return port:

Port of Sorong
Specify the dates of your planned trip to browse through the available options or
view full schedule
More info & book
South Forgotten Islands (Saumlaki - Maumere) (12 Night Trip)
13 Days / 12 Nights (Approximately 38 dives)
Departure port:

Saumlaki

Return port:

Maumere
Specify the dates of your planned trip to browse through the available options or
view full schedule
More info & book
Maluku - Banda - Raja Ampat (Ambon - Sorong) (13 night trip)
14 Days / 13 Nights (Approximately 40 dives)
Departure port:

Ambon Island

Return port:

Port of Sorong
Specify the dates of your planned trip to browse through the available options or
view full schedule
More info & book
Komodo Focus (Bima - Labuanbajo) (11 Nights Trip)
12 Days / 11 Nights (Approximately 35 dives)
Departure port:

Bima

Return port:

Labuan Bajo
Specify the dates of your planned trip to browse through the available options or
view full schedule
More info & book
South Forgotten Islands (Maumere - Saumlaki) (12 Night Trip)
13 Days / 12 Nights (Approximately 38 dives)
Departure port:

Maumere

Return port:

Saumlaki
Specify the dates of your planned trip to browse through the available options or
view full schedule
More info & book
Raja Ampat (Sorong - Sorong) (11 Night Trip)
12 Days / 11 Nights (Approximately 36 dives)
Departure port:

Port of Sorong

Return port:

Port of Sorong
Specify the dates of your planned trip to browse through the available options or
view full schedule
More info & book
Greater Raja Ampat (Sorong - Sorong) (13 night trip)
14 Days / 13 Nights (Approximately 42 dives)
Departure port:

Port of Sorong

Return port:

Port of Sorong
Specify the dates of your planned trip to browse through the available options or
view full schedule
More info & book
North Forgotten Islands (Ambon - Saumlaki) (12 night trip)
13 Days / 12 Nights (Approximately 34 dives)
Departure port:

Ambon Island

Return port:

Saumlaki
Specify the dates of your planned trip to browse through the available options or
view full schedule
More info & book
Raja Ampat (Marine Biologist) (Sorong - Sorong) (11 night trip)
12 Days / 11 Nights (Approximately 36 dives)
Departure port:

Port of Sorong

Return port:

Port of Sorong
Specify the dates of your planned trip to browse through the available options or
view full schedule
More info & book
Komodo Focus (Labuanbajo - Bima) (11 night trip)
12 Days / 11 Nights (Approximately 36 dives)
Departure port:

Labuan Bajo

Return port:

Bima
Specify the dates of your planned trip to browse through the available options or
view full schedule
More info & book
Komodo (Bali-Labuanbajo) (8 night trip)
9 Days / 8 Nights (Approximately 24 dives)
Departure port:

Port of Bali

Return port:

Labuan Bajo
Specify the dates of your planned trip to browse through the available options or
view full schedule
Arenui cabins
Rama (Master Suite)

Deck:

Upper Deck

Size:

20 m2

Bedding:

Double bed

Max occupancy:

2

more info

Shinta (Master Suite)

Deck:

Upper Deck

Size:

20 m2

Bedding:

Double bed

Max occupancy:

2

more info

Ganesh (Deluxe Twin Cabin)

Deck:

Upper Deck

Size:

19 m2

Bedding:

Twin beds

Max occupancy:

2

more info

Barong (Deluxe Twin Cabin)

Deck:

Upper Deck

Size:

19 m2

Bedding:

Twin beds

Max occupancy:

2

more info

Toraja (Deluxe Double Cabin)

Deck:

Lower Deck

Size:

20 m2

Bedding:

Double bed

Max occupancy:

2

more info

Garuda (Deluxe Double Bed + Twin Bed Cabin)

Deck:

Lower Deck

Size:

20 m2

Bedding:

Double bed + Twin bed

Max occupancy:

2

more info

Dayak (Deluxe Double Cabin)

Deck:

Lower Deck

Size:

21 m2

Bedding:

Double bed

Max occupancy:

2

more info

Legong (Deluxe Double Bed + Twin Bed Cabin)

Deck:

Lower Deck

Size:

20 m2

Bedding:

Double bed + Twin bed

Max occupancy:

2

more info
You also may be interested in