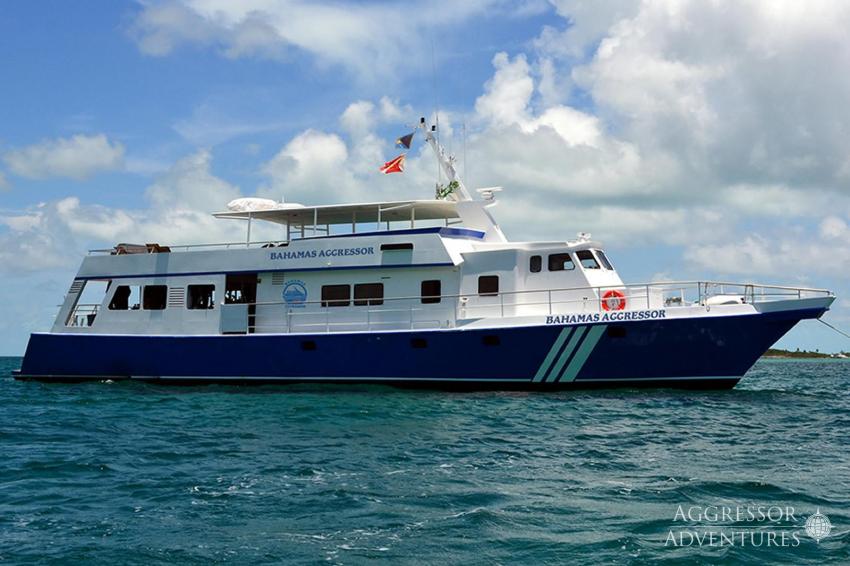 Bahamas Aggressor Liveaboard
Overview

Schedule & Pricing

Cabins

Amenities

Reviews
Equipment Rental

Surcharge
Fleet name

Aggressor Fleet

Year built

2012

Length

30.5

Width

6.7

Capacity

14

Material

Aluminium
Bahamas Aggressor Liveaboard is a member of Aggressor Fleet, that means you guaranteed will get high-quality services on the board. The boat offers diving at the greatest destinations for shark encounters West End and Tiger Beach, where Caribbean sharks, tiger sharks, bull sharks and hammerheads can be seen. You also will get an opportunity to dive at shallow wrecks of Bahamas, that can be easily explored even by snorkelers. Bahamas Aggressor provides special facilities for underwater photographers. A special camera station allows to easily maintain photo gear after diving. Because all dives are made from the diving platform, divers can do up to 5 dives per day. Bahamas Aggressor's guests can perfectly relax on thу upper deck that supplied with a hot tub and sun loungers.
Boat interior
The Bahamas Aggressor can accommodate 14 passengers on board. There are several types of rooms, such as deluxe rooms with a double bed and a twin bed, and quad cabins with 4 bunk-style beds, which are perfect if you are traveling with family or friends. All cabins have private showers, air conditioning, and a hairdryer. The boat's lounge is spacious, and every diver can relax comfortably after a day of diving. The guests onboard the Bahamas Aggressor liveaboard can use the small library, watch TV, or chat with other divers there. Enjoy the gorgeous view or watch sunsets on the boat's sun deck.
Dive deck
The dive deck on the Bahamas Aggressor has space for every diver on board, with personal lockers for gear. Divers can use the showers on the deck for quick rinsing after dives. The boat has a big camera table for maintaining photography equipment. Suited for photographers With its walls, coral reefs, and lots of different fish to encounter, the Bahamas is one of the best diving destinations for photographers. The Bahamas Aggressor has a large camera table where you can maintain your cameras. You can rent all the equipment that you need on board, including a TG-4 camera and underwater housing.
Itineraries
The Bahamas Aggressor diving itineraries include visiting the Exuma Cays Land and Sea Park, one of the world's most extraordinary marine parks. The crystal-clear waters of this diving destination are full of coral reefs and fish like angelfish and butterflyfish. You can also see sharks, eagle rays, and stingrays here, and plenty of macro creatures.
When to go
You can dive year round. Hurricane season is June through November.
A perfect combination of safety and fun, the Bahamas Aggressor is a great choice for your vacation. The boat's experienced team will show you all the best dive sites in the Bahamas
Read more
Booking process
Booking
Select the cabin of your choice and enter your personal information. Submit the booking request. Once the booking is processed, you will receive an email notification with all booking details conveniently laid out in PDF.
Confirmation
Our team will contact the liveaboard on your behalf to confirm availability and other booking details. We put your place(s) on hold and get back to you within 24 hours. If there are any issues, we come back to you with alternative options.
Payment
Once your booking is confirmed, you will receive an email notification with payment instructions. You then have up to 72 hours to take care of other travel arrangements and process the transaction to secure your reservation.
Payment Terms & Cancellation Policy
Expand
Payment Terms & Cancellation Policy
Book with Divebooker and get extra benefits
No Booking Fees
Loyalty Club Benefits
FREE DAN Dive Insurance
Book Now Pay Later
Best Price Guarantee
Special Offers & Deals
24/7 Expert Support
Cabins
View deck plan
Quad Stateroom (#1)
Size

6.7

Deck

Lower Deck

Bedding

2 Twin Beds + 2 Twin Beds (Bunk-Style)

Max occupancy

4 Guests

Ensuite Bathroom

Ensuite Bathroom

Aircon

Aircon

Number of Cabins

1 Cabin
Cabin with two sets of twin bunk-style beds. Private head and shower, port windows, individual climate control, monitor with media player and hair dryer
Read more
Deluxe Stateroom (#2, 3, 4, 5, 6)
Size

4.3

Deck

Lower Deck

Bedding

Double Bed + Twin Bed (Bunk-Style)

Max occupancy

2 Guests

Ensuite Bathroom

Ensuite Bathroom

Aircon

Aircon

Number of Cabins

5 Cabins
Cabins with double bed (lower) and twin bed (upper) bunk-style. All with private head and shower, port window, individual climate control, monitor with media player and hairdryer
Read more
Reviews about Bahamas Aggressor
Cabins & Facilities

Food & drinks

Guiding & Safety

Service & Infrastructure
Friendly, Helpful and Enthiustiastic Staff
Verified review
I was aboard December 14-21. My cabin was possibly the smallest on the boat, with (I'm being generousness) 6X2 feet of floor space. Not much time other than sleeping is spent in there but my roller duffel didn't fit in the under bunk storage area and had to be stored in the wheelhouse. My top bunk in that tiny cabin featured an air duct running it's length, intruding so low that I could barely turn over. No grab rails are provided so it's a leap of faith getting out of the thing in the morning. I can't say enough about the crew of Bahamas Aggressor. They are to a person, truly on top of their game, striving to deliver a personable, exciting, and safe as possible open water diving experience on some great dive sites around Exuma and Eleuthera islands. The boat is well kept, although we did have a failure of the nitrox system during filling of tanks before the last dive of the trip, and during the run back to Nassau the AC unit failed (it was repaired not too long after our arrival at the dock). Food? Fantastic! And plenty of snacks between dives. If I win the lottery I might hire the cook away from Bahamas Aggressor. The first and last nights were spent in port of Nassau. There is a party / bar boat a couple hundred feet from where BHA ties up. Its music blares until early in the AM and the pounding bass is not easily muffled, even with a pillow over ones head and wearing noise canceling headphones. I probably got four hours of sleep the first night. The last night I was tired enough that I got about six hours. I'd go out on BHA again on the Tiger beach itinerary, it runs out of Freeport much less a party city and port, I am told. I'd think twice about the Nassau itinerary again, great diving but good gosh that music!
Read more
Full slate of first rate fun
Verified review
The Bahamas Aggressor captain and crew are excellent. Captain Christy got us to some great dive spots including the Blue Hole, Washing Machine, and a slew of wall and reef dives in the Exumas. I took a significant course aboard, Diver Stress & Rescue and my instructor, Rachel, was thorough, patient, and made it all work seamlessly while also affording me time for many fun dives. Brynn, Rob, James, and Caleb rounded out the crew leading great dives, keeping us well cared for with good food and warm towels after every dive and capturing it all on video and photos. There are fancier boats but this one served us very well. No complaints, would head back again tomorrow if I could.
Read more
You also may be interested in
Other liveaboards in Bahamas
Best destinations for liveaboard trips