Scuba diving in

Isla Contoy Whale Shark Tour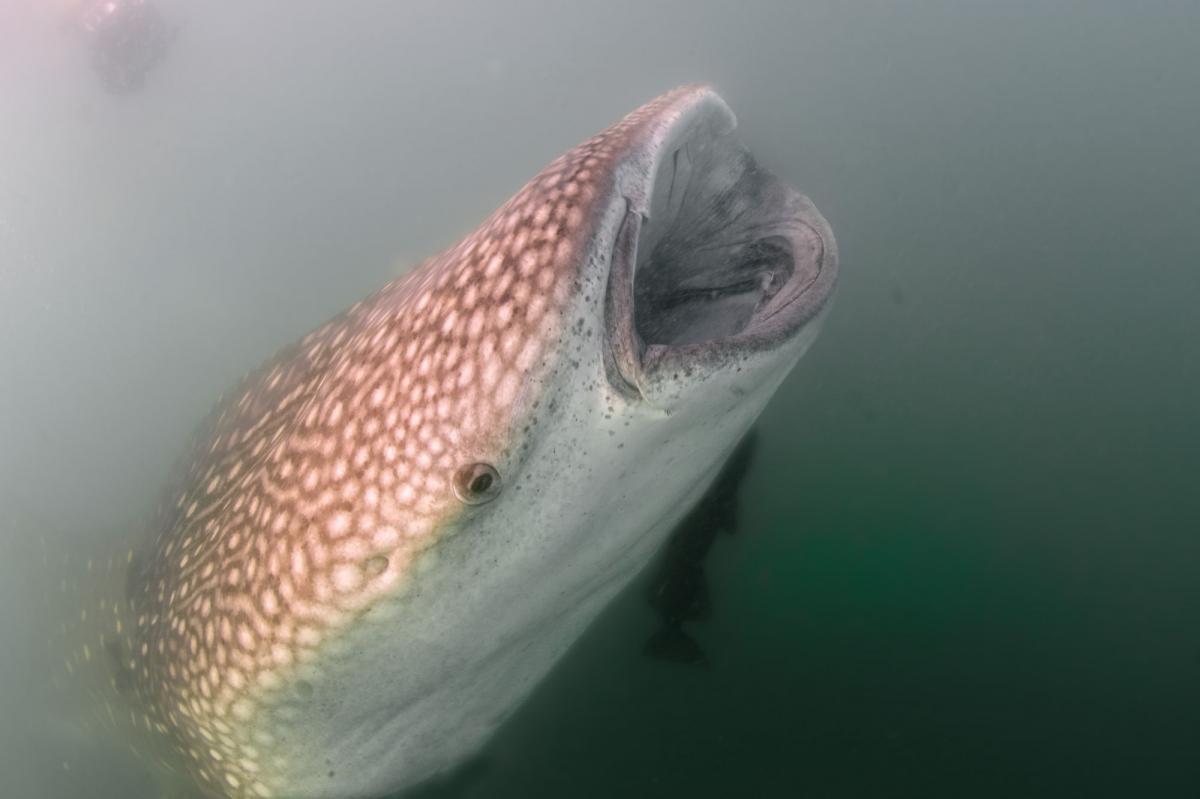 Access

From Boat

Diver level

Novice

Depth

Average: 1 m
Maximum: 10 m

Current

mild

Visibility

Average: 10 m
Maximum: 30 m
Isla Contoy is a small tropical island (only 8.5 km long) situated approximately 30km/19mi north of Isla Mujeres. Isla Contoy has been declared a National Park and is protected by Mexican government, therefore, only supervised eco-tourism and regulated fishing are allowed in the area. Isla Contoy has a fabulous reputation for viewing exotic wild life as it is a sanctuary to approximately 152 species of tropical marine birds. However, the biggest attraction of Isla Contoy is the annual whale shark migration during June-September period. These magnificent creatures gather there to gorge on plankton which blooms at this time of the year. The whale sharks are an unforgettable sight, as they glide close to the surface with their enormous (up to 1,5m/5ft wide) mouths open and suck in the plankton. Although their gigantic sizes are a bit thrilling, these amazing creatures are completely harmless to humans as they feed exclusively on plankton.
When to go
Whale sharks can be met in local waters from June till mid-September.
What to see
Numerous whale sharks and other pelagic fish to swim with and a wide variety of exotic wild life to observe.
Liveaboards with trips to Isla Contoy Whale Shark Tour
Dive center`s Special Offers
Cancun Deep Life Divers

Swim With the Whale Sharks (Meet at the Marina)

Whale Sharks (RhiniodonTypus) are harmless sharks, not whales, they are the largest fish in the ocean, reaching over 50' (15 m) and over 27,000 lb (12,500 kg). They are filter feeders and their favorite meal is plankton. In order to feed, they scoop these tiny plants and little animals, with their colossal gaping mouths while swimming close to the water's surface. The average size is about 7.5 meters or 25 feet long they are enormous . Whale sharks live in warm water near the equator. The Mexican Caribbean is one of the few places in the world where they are close enough to shore to make boat trips out to see them possible. Here is the biggest congregation in all over the world. Although massive, whale sharks are docile fish, you can safely snorkel with them while they are feeding in the surface, each encounter allows groups or 5 people to enter the water at a time along with your guide. Our crew will brief and assist you through out the day with information about the Whale Sharks: sex, migration, behavior, feeding patterns, how to take photos and more. They will also instruct you on how to best approach and swim with the Whale Sharks, so that your day with the world's largest fish is a truly memorable one. During the trip you will also have the opportunity to also see dolphins and gigantic Manta rays. There are times when you will see dozens of these animals together with "jumping" manta rays out of the water, is a magnificent open ocean wild safari. Departure: 8:00 am from North Isla Mujeres also for the peoeple who stay at isla Mujeres we can go for you there, dock in downtown Isla Mujeres. See/swim with the Whale Sharks, the time you like, we are one of the last boats in the area. Snorkel for 30 minutes in Isla Che coral reef or if you prefer just swim at Isla Mujeres: 2 pm , North Cancun 2.15pm- 3pm. You must bring: Bathing Suit, Towel, Sunglasses, Biodegradable sunscreen, hat, sandals, extra dry shirt o & wetsuit (if you have). We have wetsuits for rent.

Playa del Carmen DiveMex

Snorkeling with Whale Sharks

The whale shark owes its name to its immense size of up to 12m in length and weighing up to 21 tons. His large size most clearly associates whale sharks with whales, but they are actually part of the shark family. The whale shark is not a hunter but one of the filter animals. He is the only surviving specimen of the genus Rhincodon, whose origins date back to 60 million years ago. The whale shark is the largest living fish and the largest, non-lactating vertebrate in the world. He lives in tropical, warm waters near the equator. The excursion starts at about 6am at your hotel. With the mini-van we go to Cancun for private investors in the harbor of Puerto Juarez. Here your guide will be waiting for you with a light breakfast and all the important information for the day. After the briefing, you will go via speedboat in the marine park to the whale sharks. The journey time is approximately 45 minutes. Once in the Marine Park, you can go swimming with the whale sharks, always two people plus a guide. We have plenty of time to relax here; no time pressure. In addition to the whale sharks, it is not uncommon to see manta rays, dolphins and turtles. After swimming, we will bring you to Isla Contoy or Isla Mujeres to snorkel at a small reef. After snorkeling we offer a small lunch of shrimp ceviche, water, soft drinks and beer. The boat is at 1p.m. or 2p.m. back at Puerto Juarez and from there it goes back to your hotel, hopefully with unforgettable memories and photos. Tip: When you snorkel with the whale sharks or even later on the reef, it is required that you wear a life jacket or a shorty. On board there is only life jackets, if you prefer to swim with a shorty we offer them for rent from our shop for 5 USD.
Reviews about Isla Contoy Whale Shark Tour